Moksha Roots*Live
FRIDAY JUNE 17,2011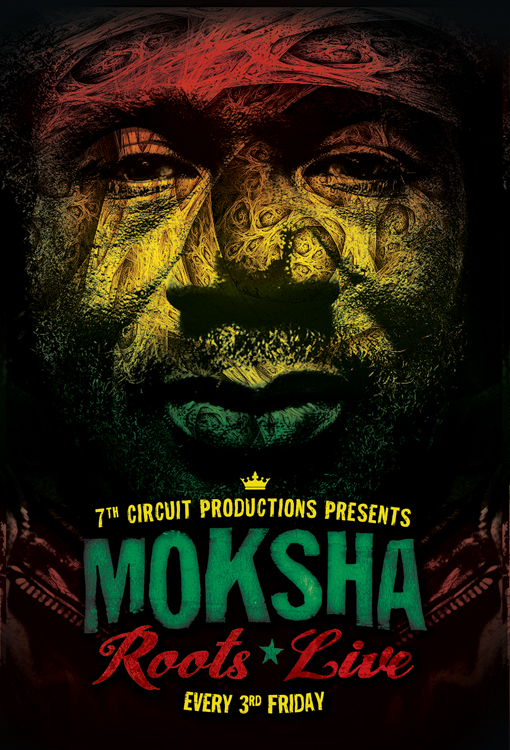 Come out to continue the party on the third Friday of every month,
7th Circuit Productions and Moksha Family Arts Collective presents 
Moksha Roots Live. 

The after party for The Rhythm Foundation's ~ Big Nights in Little Haiti. 
This month on June 17th we will feature our gallery, live music, d.j.'s,
performances, live painting, and vendors. 

The Moksha Family Artist Collective is a non-profit organization all funds
go to support our local artists and community projects. 
It's a guaranteed celebration to meet people while enjoying cultural music,
mind-blowing art, and a harmonious atmosphere. 

Come and enjoy this evening of good vibes and amazing energy,
while supporting the movement and keeping the vision alive.

JUNE 17th line-up:
Show begins @ 10:00pm-3:00am ($10.00) 18+Over
The Moksha Gallery, Moksha boutique and Pleaidian Lounge 
will be open from 6:00pm-10:00pm (free)
~Moksha Family Roots Collective~
The Moksha Family Roots Collective band is a constant rotation of 
Miami's finest roots and world music musicians with international guests. 
Our Special guest musicians all unite to deliver an eclectic Jam. 
This allstar group will feature :

Demetrius Brown (Manchild), Jose Elias(Spam Allstars), Hunter Parmentier (Jaffe),
Bagga Traxx, Allison Irvine, Plus More!!!
You never know who may step on stage and join the jam!!
~D.J. Moses ~
DJ Moses opens the door to authentic high quality world music and 
invites you in to discover (and perhaps remember) how glorious, 
diverse and deep music can be. The African continent, Jamaica, Haiti, Brazil,
the U.S. and Latin America are all represented in his selections. 
His past includes gigs with such luminaries as Baaba Maal, Thomas Mapfumo, 
Joseph Hill & Culture as well as many others. 
DJ Moses is one of a kind in our community. Originally from New York City, 
he has been living and working in Miami since 1995.
~Jeff Dekal~ 
Live Painting Drawing was only a hobby until I got into high school. 
That's where I started doing graffiti and that's where 'Dekal' comes from. 
Graffiti got me going with drawing, but the finer more figurative work I 
do now came after learning about art history in college. 
My inspiration comes from comic book and video game characters, high fashion,
and probably most importantly, nature. Lately, fleeting moments and dreams
have been inspiring me. Not necessarily what happened in a dream, but how 
a dream visually looks. Blurred, tough to focus, colors not true to life.
~V.J. Care ~ 
Environmental light wizard aka VJ CARE is a south Florida multi-media artist
originally from Seattle, Wa. She has traveled the world spreading light through
creativity for a wide range of artists & visionaries including, 
Terrence McKenna, Michael Franti, Sonic Youth, George Clinton & 
The P-Funk All Stars, Dale Chuhily & many others. Transforming the physical
space to support the experience, her vision is to create multi-sensory 
experiences that connect, inspire & engage.