Big Night in Little Haiti – ZENGLEN
Free Concert – 4/15

Fri. April 15th, 6 PM – 10 PM
BIG NIGHT IN LITTLE HAITI
FREE concert by Compas Stars Zenglen!

Plus arts, crafts, Haitian food, drinks, fun
Masquerade show by TiChapo
Open artist studios and more
Little Haiti Cultural Center,
212 NE 59 Terrace,
Miami, Florida 33137
(305) 960-2969
We had such a great time at the Big Night launch in March – here are some photos.
You can also read a review at BeachedMiami.com

The April edition features two sets by one of our favorite Haitian
Compas groups, ZENGLEN! Between the sets, enjoy a short masquerade show with outrageous Haitian carnival costumes.
On exhibit at the gallery at the Little Haiti Cultural Center is
Saint Soleil: Legacy

In the plaza you will find delicious Haitian food for sale by Chef
Creole, bars featuring our official beer Prestige, and catering by
Spuntino.
Also planned for Big Night in Little Haiti:
The Haitian Cultural Arts Alliance (adjacent to the Center at 225 NE 59 Street) hosts open studios by photographer Carl Juste and painter / sculptor Edouard Duval Carrie.
7th Circuit Studios (228 NE 59 Street) welcomes the public to a free open studio from 7PM-10PM.
At 10 PM, we host a concert ($10 admission) by the Moksha Allstars with special guests,
Out of the Anonymous and DJ Franky Helix. Plus live painting by Jose Mertz.
..is produced by The Rhythm Foundation & The Little Haiti Cultural Center. Major support is received from the John S. and James L. Knight Foundation's Knight Arts Challenge Grant. Additional support is received from American Airlines, Biscayne Times, City of Miami, Prestige Beer.

13th annual Afro Roots World Music Festival Saturday, April 16th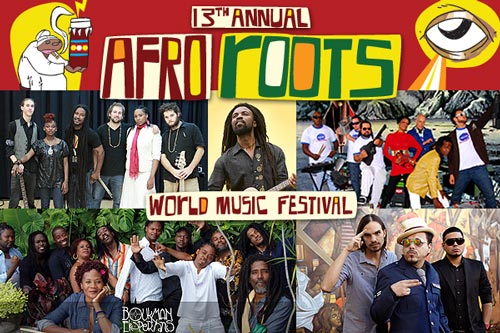 Saturday, April 16th
13th annual Afro Roots World Music Festival
at
7th Circuit Studio228 NE 59 St.

Directions
Miami, Florida 33137
786-218-6854
Doors open at 5:00 pm
The 13th Annual

Afro Roots World Music festival

focuses on celebrating the evolution of African Culture in our community. Noted by many to be Miami's longest running World Music festival, the event has featured artists from various African countries such as Senegal, Ivory Coast, Guinea, Mali, and the Republic of Congo, as well as artists from the Caribbean and the Americas. The festival also features a variety of satellite events such as, the Festival of the Drum, the kick off celebration, and a variety of panels and workshops. This global connection through music has helped the festival evolve into one of Miami's most culturally diverse events.
This years line up includes:
Plus arts and crafts vendors, food, drinks, and more!
This is an all-ages event on Saturday, April 16, 2011
Showtimes:
7:00pm – 8:00pm Spam Allstars w/ special guest




Papa Malick Faye
8:30pm – 9:30pm Jahfe
10:00pm-11:15pm Locos por Juana w/special guest




Rocky Dawuni
11:45pm- 1:45am. Boukman Eksperyans


Tickets
$5 kids 12 and under
$10 reduced rate for students and seniors(at the door only.)
This event is underwritten by the Miami-Dade Department of Cultural Affairs,
The Mayor and Board of County Commissioners, The NEW HOTEL,
7th Circuit Productions, Urban Resource, Prestige Beer & Kulcha Shok Muzik.