15th Annual Afro Roots
World Music Festival



Saturday August 3 9PM
!
Click on the poster below & check out
The New Afro Roots Festival website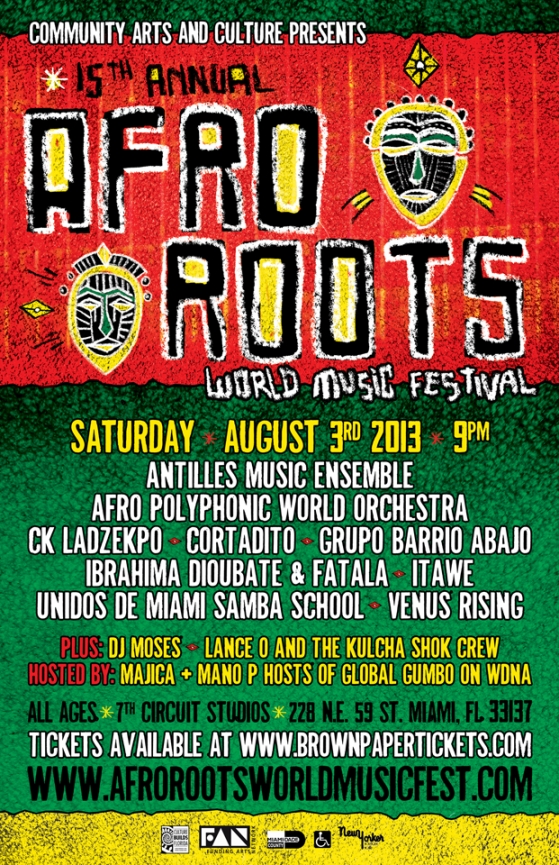 Get your early
bird half price tickets now
(Click on the Logo)

Check out our online Fundraising Campaign
 
For 15 years, the Afro Roots World Music
Festival has celebrated the
evolution of African culture by
featuring some of the best
performers from all over the
Caribbean, the Americas and African
countries such as Senegal, the Ivory
Coast, Guinea, Mali and The Republic
of Congo. This global connection
through the universal language of
music has helped the festival evolve
into one of Miami's most culturally
diverse events. The festival's
signature youth program,
"Let The Children Have Music" is
a FREE program providing live music,
dance demonstrations, show-and-tell
style presentations by festival
artists and art projects for
children ages 3 to 12.

The Little Haiti Cultural Center
will be the  host location to this
year's celebration Saturday, August
3, 2013. To commemorate the
festival's 15th anniversary, CAC
wants to produce an extra special
"Let The Children have Music"
program and invite a special musical guest. 

Your donation will support CAC's
efforts to produce a special 
"Let The Children have Music" program
that's not only fun for kids of
all-ages, but showcases the
diverse cultural roots that
exist in their community. It is
our sincere desire to bring
world culture to Miami, and your
contribution will aid our effort
in continuing to do so.
Copyright @ 2013 Community Arts & Culture, All rights reserved.
Saturday – August 3rd, 2013
at

228 NE 59th ST MIAMI FL 33136