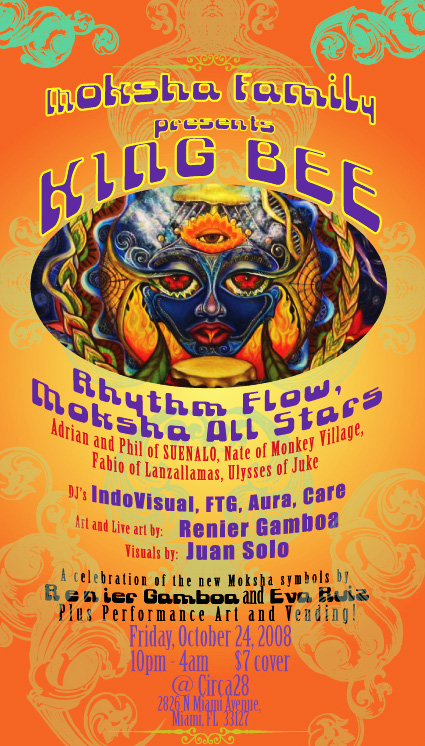 a Psychedelic Night – with KING BEE , The Moksha Allstars,
Rhythm Flow, PVM D.J.'s Indovisual,
FTG, Aura, and Care, art by Renier Gamboa and more!
  10pm-4am   We are taking over Circa 28!   2826 N. Miami Ave.
Upstairs- Rhythm Flow will start the night with
their psychedelic electro/acoustic drum jam.
One of our favorite local rock bands, King Bee will be headlining!
Rising from the cowfields of S. Florida come the Moksha Allstars,
comprised of Phil and Adrian (Suenalo), Fabio (lanzallamas), Nate from the
(Monkey Village) and Ulisses (Out Of The Anonymous)
downstairs- Moksha/PVM D.J.'s Indovisual, FTG, Aura, and Care, will be
spinning downtempo and chill experimental grooves.
Art & Live Painting by Renier Gamboa.
Performance art.
Support our local movement!
cost is only $7.00
Our Family would LOVE to SEE YOU there!