RIZE -N- SHINE & 7TH CIRCUIT PRODUCTIONS
Present:
A *MOKSHA ROOTS LIVE* SPECIAL EVENT
An intimate evening with reggae superstar: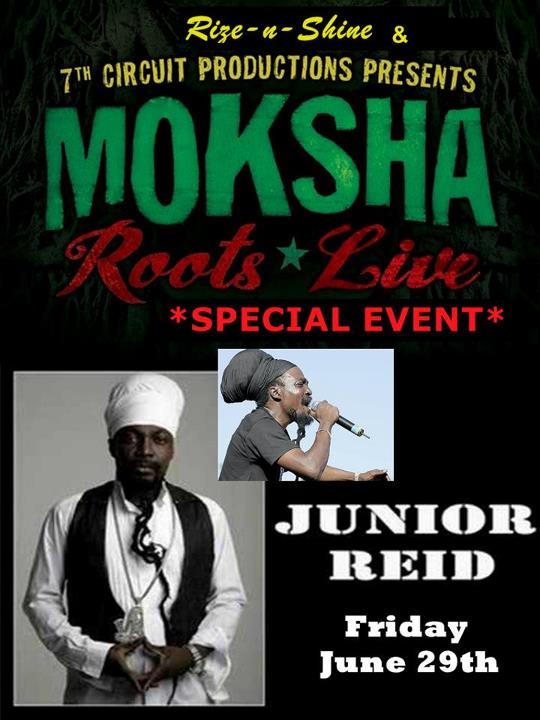 Jamaican reggae and dancehall artist, best known for the songs… "One Blood" and "Funny Man", as well as being a lead vocalist for Black Uhuru. With his incisive, prophetic lyrics and unstinting support for the ghettoman cause, Junior Reid remains a roots artist of great power while maintaining an already burgeoning international reputation.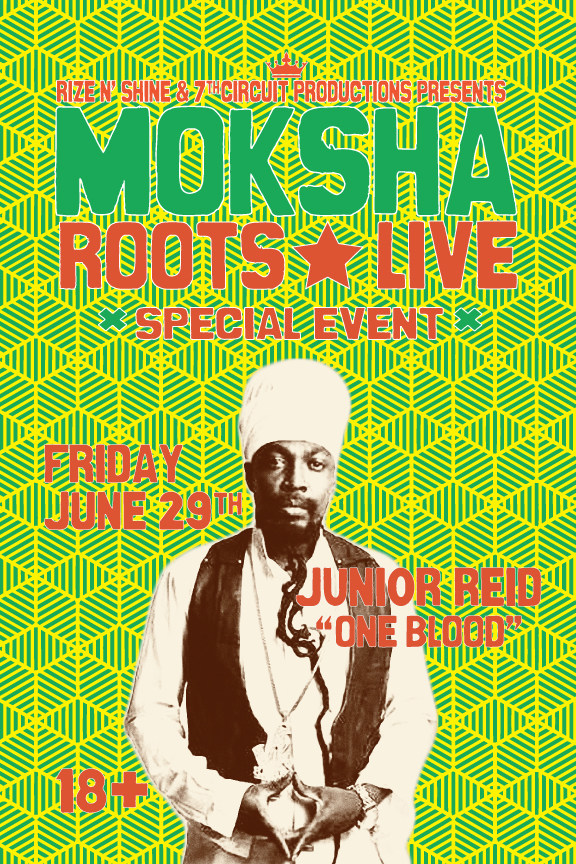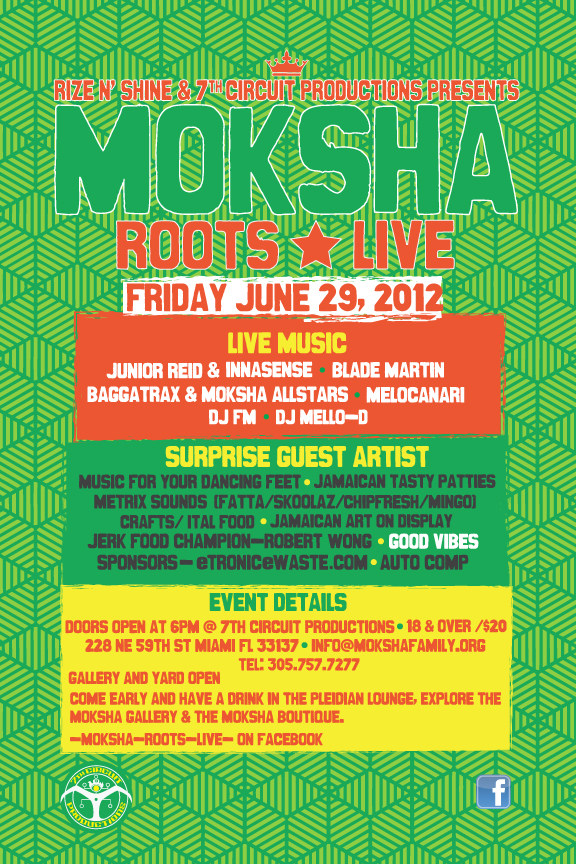 Opening Bands
~BAGGATRAX~
~MOKSHA ALLSTARS~
~MELOCANARI~
DJs
DJ MELLO-D
SURPRISE GUEST ARTISTS
Music For Your Dancing Feet
METRIX SOUND STATION (Fatta/Skoolaz/Chipfresh/Mingo)
CRAFTS/ITAL FOOD – JAMAICA ART ON DISPLAY
JAMAICA TASTY PATTIES
Jerk Food Champion Robert Wong – Good Vibes
SPONSORS – eTRONICeWASTE.COM – AUTO COMP
*EVENT DETAILS*
FRIDAY 06.29.2012
From 6:00 pm until ..[DUST TILL DAWN]
18+Over /$20
6PM – ?AM @ 7th Circuit Productions,
228 NE 59th ST MIAMI FL 33137
info@mokshafamily.org
Gallery and yard open..
Food and vending available. contact us if you are interested.
special guest food vendor: South Florida Jerk Food Champion!
Come early and have a drink in the Pleidian Lounge ,
explore the Moksha Art Gallery & The Moksha Boutique.
For more information: 305-757-7277
-Moksha-Roots-Live- on FACEBOOK
Also, don't miss the next *Moksha Roots Live* July 20, 2012