Saturday, September 24 at 10:00am – September 25 at 4:00am
---
7th circuit studios – 228 NE 59th Street , Miami, FL
---
Expand the Love and Moksha Family Arts Collective Present:
EARTHDANCE MIAMI 2011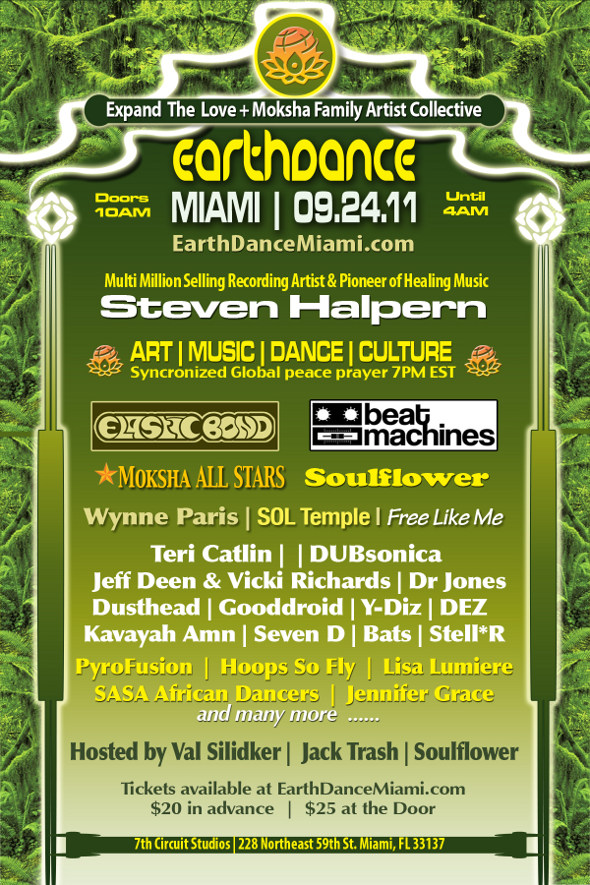 A Global Festival for Peace, Earth Awareness, and Community Celebration!
In alignment with the United Nations theme for 2011 – International Year of Forests
This year, we will focus our intentions on "Celebrating the Forests" and how we can protect them for generations to come. EARTHDANCE Also FEATURES…A Synchronized Global Peace Prayer with over 350 locations in 60 countries! Saturday night at 7pm.
EXPERIENCE…a POWERFUL day and night of live CONSCIOUS world MUSIC, DJs, performance artists, drumming, HEALING Arts Temple, PRAYERDANSE Rave, DREAM Temple, sound healing, KIRTAN, kids activity tent, Body Artists, synchronized prayer for peace, Elder's Wisdom Circle, the Conscious Culture CAFE, Hookahs, art & crafts VENDORS and environmental non-profit organizations.
EARTHDANCE MIAMI also features spoken word artists, activists and POETS, qigong, and YOGA, visionary ART gallery and LOUNGE, as well as mind, body, spirit WORKSHOPS!
Hosted by: Val Silidker and Jack Trash
FEATURING:
Beat Machines featuring Tony Laurencio of Afrobeta
Wynne Paris
Teri Catlin
Soulflower
Elastic Bond
Sol Temple w Kavayah Amn
Jeff Deen w/ Vicki Richards
Free Like Me
A-Tribe
Moksha Roots Collective
Dubsonica
Rhythm Flow
Y DIZ
Seven D
Dusthead
Pyrofusion
Hoops So Fly
JennyZ Hoops
Lisa Lumiere
HappyZ
Dangerfun
SASA African Dance Theater
Almaas Bellydancers of South Florida
Alonso the Poet
DJ Stell*r
Dr Jones
DEZ
Bats
Gooddroid
Alexi Mer
DayDreamn
Digital
Roy B
Nitebloom
Beatmassa
* PRAYERDANSE *
w Rachel Levy and Susana Perczek
featuring STEVEN HALPERN
WORKSHOPS:
Hoops and Poi w Pyrofusion/Groovolution
Rebirthing Breathwork w Denise Dobbs & Graham Alexander
Directing Your Destiny w Jennifer Grace Safina
Permaculture w Marcus Thomson
Drumming For Wellness w Jeff Deen
5 Elements Drumming w Kavayah Amn
Healing Gardens w Brent Knoll
Flying yoga w Michael Sivanataraj
Energizing Moves w Michelle Maniaci and Fernando Subirats
Partnered Thai Yoga w Jessica Stiehm and Aaron Erickson
Tai Chi and Qigong w Master Sunyata
Yoga w Terri Cooper
Gong Meditation w Jiwan Kaur
* Eco-Spirituality Prayer Circles
hosted by Unity on the Bay's Green Team
LIVE ARTISTS:
Reinier Gamboa
Margaret Morales
Eva Ruiz
Anya Nadal
POLESTAR'S Healing Arts Dome
Massage, energy healers, sound healers,
interactive demos/classes, midnight Kirtan,
*Expand the Love's Dream Temple and more!
~ DREAM TEMPLE * Sound Healing Provided by Altered Space *
Delicious Vegetarian, Vegan and Raw Foods available
Green Bites www.GreenBitesMiami.com
La Vie En Raw www.lavieenrawcafe.com
For Tickets, Full Schedule and Updates:
$20 pre-sale, $25 at the door.
Re-entry is ALLOWED until 9pm! After 9pm: no re-entry.
* BRING YOUR DRUMS!
MORE PERFORMERS, WORKSHOPS & ARTISTS TBA
* * Earthdance will be featured on WLRN 91.3FM with Michael Stock on
Sunday, September 18th between 2-4pm. Tune In!
Come EXPERIENCE a truly conscious, globally connected one-of-a-kind Festival!
"Not just a festival focused on music, but rather a festival of spiritual consciousness,
environmental and political activism and awareness…" – Jambase.com
"The most conscious global festival of our time.." Time Out Magazine