Expand The Love Music & Moksha Family
Present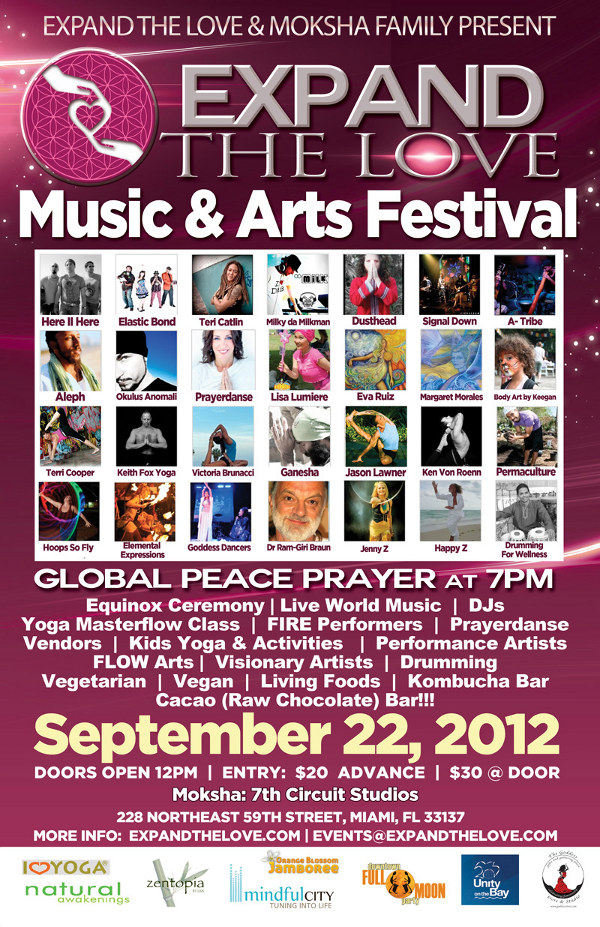 Expand The love Music & Arts Festival
Featuring
Here II Here

acoustic reunion concert,
Elastic Bond, Teri Catlin Band, A-Tribe,
Dusthead and the Creation of Constellations,
Aleph w EuGene Gant and Ganesha, Signal Down,
Earthdance's Global Unified Peace Prayer with
over 80 Countries, EQUINOX Ceremony and
Wisdom Circle, LIVE World Music
DJs:
Okulus Anomali & Milky Da Milkman
Yoga Masterflow Class Featuring:
Terri Cooper of Yoga Gangsters,
Keith Fox of YogaFox,
Victoria Brunacci of Synergy,
Ken Von Roenn of Skanda Yoga, and
Jason Lawner of Green Monkey
FIRE/HOOP Performers:
Elemental Expressions, Prayerdanse
Workshops, Vendors, Kids Yoga & Activities
Performance Artists, FLOW Arts
LIVE Visionary Artists, Poets, Drumming
PLUS Vegetarian, Vegan and Living Foods, a
Kombucha Bar and a Cacao (Raw Chocolate) Bar!!
EVENT DETAILS:
Saturday, September 22, 2012
7th Circuit Studios
228 NE 59th Street
Miami, FL 33137
Doors Open at 12pm noon!
$20 pre-sale and $30 at the door.
Save $10 and get your tickets early!
*Children under 12 are FREE!
*BRING YOUR DRUMS and Yoga Mats!!!*
Expand the Love Music & Arts Festival is presented by: