Moksha Arts Collective Presents: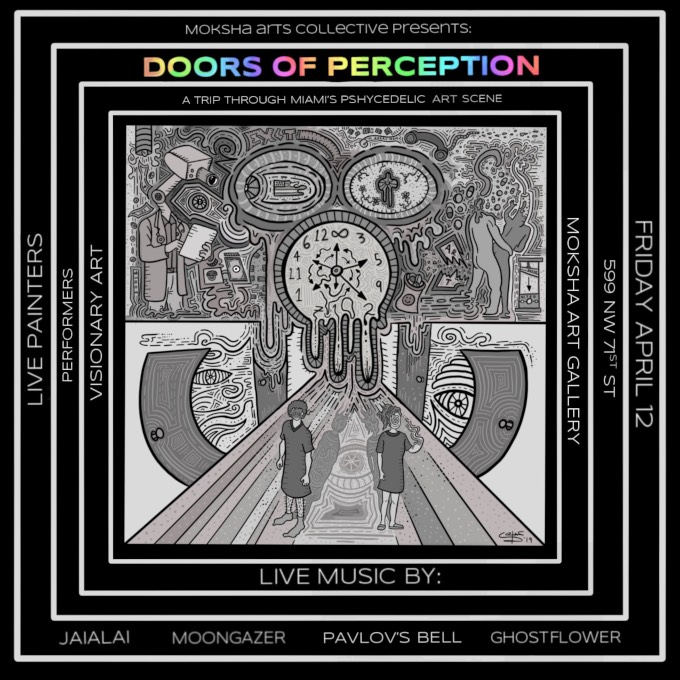 "Doors Of Perception"
A trip into Miami's new underground psychedelic arts scene.
Featuring Miami's premier psychedelic rock bands, live visual artists, performance art, and more. Some of these bands were featured at the 3 points festival. Located at the Moksha Arts Collective studio, which features paintings from world-renowned visionary artists, and has a goal of reconnecting human culture to its roots by supporting and empowering artists.
Friday April 12, 2019 – 9PM – 2AM -$10 admission at the door.
DJ:
~GIACOMMO~
Bands:
~JAIALAI~
~MOONGAZER~
~GHOSTFLOWER~
~ PAVLOV'S BELL ~
Performance:
~JENERGY~
Live Painting:
~OCEAN MAN ARTS~
Gallery Art:
~CHRIS DYER~
~OCEAN MAN ARTS~
~ROSARIO PSY~
~SEA VASS~
~ZAK HOLLEY~
~SIMIE ALEXANDER~
MOKSHA SYMBOLS DISPLAY:
~ADAM SCOTT MILLER~
~AMANDA SAGE~
~BHAKTI BAXTER~
~CHRIS DYER~
~LEBO~
~OLIVIA CURRY~
~RANDALL ROBERTS~
~REINIER GAMBOA~
The Moksha Gallery/Studio is located at
599 NW 71st Street, Miami FL. 33150
Between I-95 and 7th Ave/441 on 71st St.
For more information call 305-757-7277
or gallery@mokshafamily.org
As a federally recognized, 501(c)3 public charity, donations to. Moksha Arts Collective are tax-deductible. Your contributions and support for our events helps to continue our community efforts. We need volunteers, donations and sponsors, if you want to get involved contact us! info@mokshafamily.org
305-757-7277