Moksha Arts Collective
Presents
LUNATECH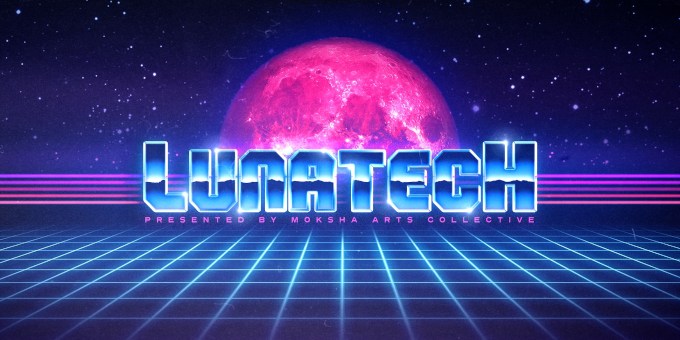 Affected with periodic lunacy dependent on the changes of the moon, a fine delegation from Miami's cutting edge artists bring their technologically-infused craft to inspire and entertain you. This stream was originally scheduled to coincide with the full moon in June and has been rescheduled to coincide with solstice and the new moon, June 20/20.
Moksha continues to provide ways to connect with community through the arts. We can still share in a group experience as we tune in together for this free live transmission on FaceBook live and Youtube. All our mini festivals have three stages, this event is in support our electronic music stage.
You can also watch the show in the new "Moksha VR Gallery 2020" pyramid on the VRChat platform, where you can interact with others and view the art on display in our constantly evolving gallery as the performers are going live.
At 7PM Links to the Live Stream will be posted at the facebook page below!
Simply follow the instructions on the post we are going to teach you briefly how to install VRchat and
log into the MokshaVR Universe with both a PC or Headset.
To attend the Moksha VR World and attend LUNATECH
https://facebook.com/events/s/moksha-arts-collective-present/330772151222099/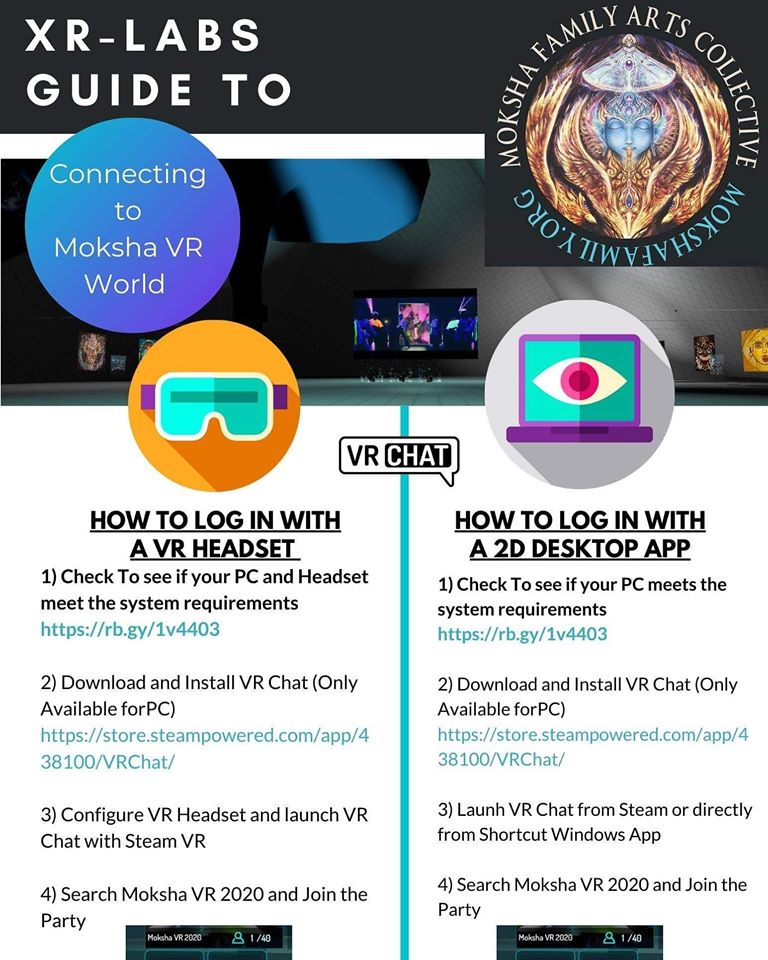 System Requirements Check – https://rb.gy/1v4403
Music:
~DANNY DAZE~
omnidisc.co
~OTTO VON SHIRACH~
bremudatrianglefamily.com
~BROOK CHILLIS~
Soul Oddity/Phonecia
~THE GALACTIC EFFECT~
~LAMEBOT~
Strange Media / Daly City Records
~MELLO-D~
Live VR Painting:
~ALISSA CHRISTINE~
Live Painting:
~STELLA SG~
~MR YOSO~
Sound,lights and visuals:
~ PETER AGUDELO~
Live Streaming:
~JERRY PENNINGTON~
VR Chat Streaming:
~JUAN GALLO~
~XR-LABS~
Live Stream location:
~7th Circuit Productions~
We are adapting our season of events to these types of live streaming concerts in an effort to carry out our commitment to support Miami's artistic community with professional multi media experiences. In time, we will offer other specialized programs to provide diverse outlets for creativity while observing precautionary social distancing.
DONATIONS are gladly accepted. All revenues go towards keeping artists and technicians working in these times.
paypal.me/MokshaArtsCollective
The Moksha Arts Collective is presenting this concert with the appreciated support of the Miami-Dade County Department of Cultural Affairs and the Cultural Affairs Council, the Miami-Dade County Mayor and Board of County Commissioners.