Moksha Arts Collective Presents – Moksha VR 2020 Gallery Premiere – December 3-6 – from 7th Circuit Studio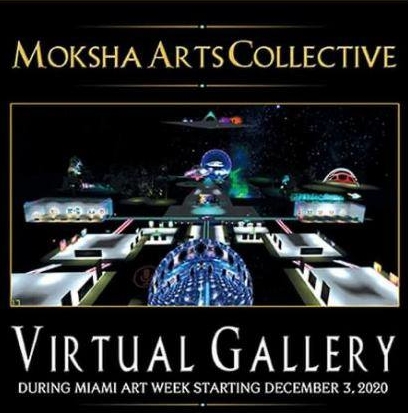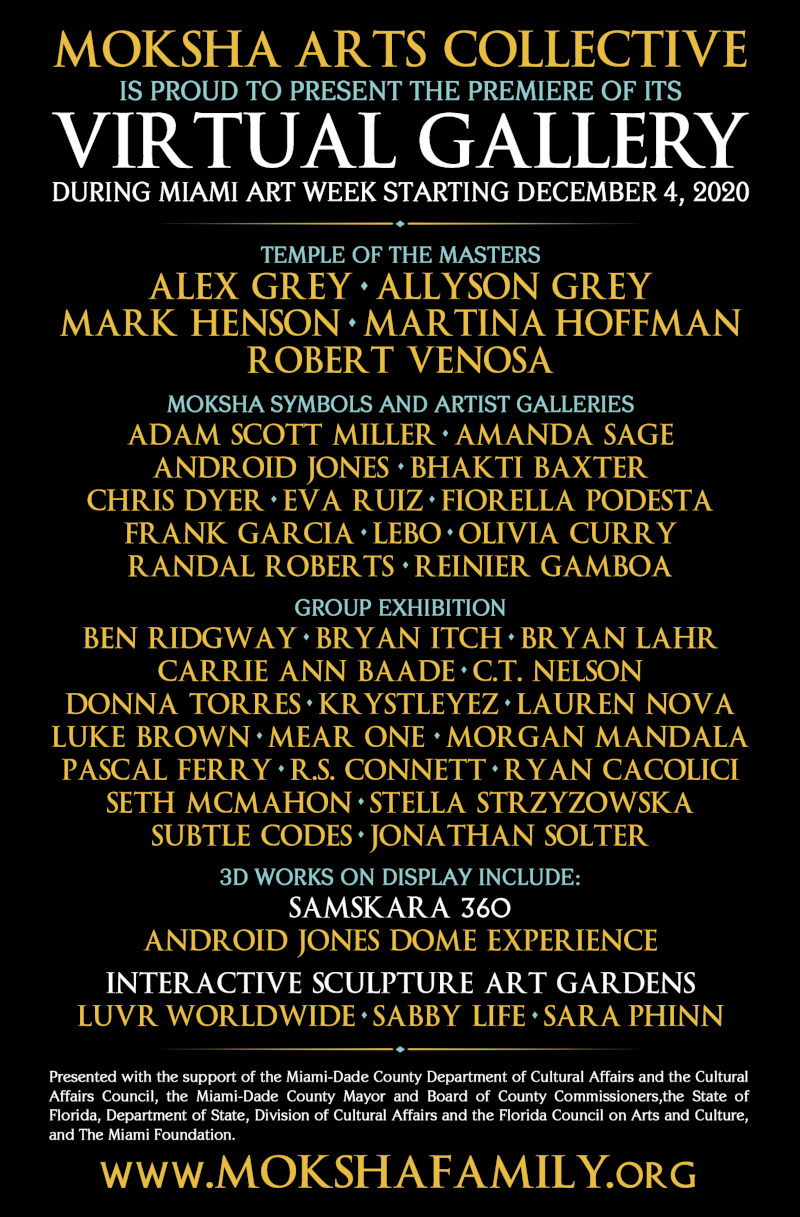 Dec 3 at 7 PM EST – Dec 6 at 10 PM EST
Public · Hosted by Moksha Arts Collective
Online Event
Moksha Arts Collective proudly presents the premiere of our Virtual Gallery during Miami Art Week, opening Thursday, December 3, 2020 @7PM EST.
The Virtual Gallery was programmed and designed by JC Fractal and curated by the Moksha Arts Collective, and features three floors of group exhibitions, with 2D works from world renowned visionary artists:
"Temple Of The Masters"
Alex Grey, Allyson Grey, Mark Henson, Martina Hoffman and Robert Venosa.
"Moksha Symbols and Artist Galleries"
Adam Scott Miller, Amanda Sage, Android Jones, Bhakti Baxter, Chris Dyer, Eva Ruiz, Fiorella Podesta, Frank Garcia, Lebo, Olivia Curry, Randal Roberts and Reinier Gamboa.
"Group Exhibition"
Ben Ridgway, Bryan Itch, Bryan Lahr, Carrie Ann Baade, C.T. Nelson, Donna Torres, Krystleyez, Lauren Nova, Luke Brown, MEAR ONE, Morgan Mandala, Pascal Ferry, R.S. Connett, Ryan Cacolicci, Seth McMahon, Stella Strzyzowska, Subtle Codes and Jonathan Solter
3D works on Display Include:
"Samskara 360" Android Jones Dome Experience
"Interactive Sculpture Art Gardens" LUVRworldwide, Sabby Life and Sara Phinn
"Film"
TIME IS NOW
a short film by AGAPE, featuring Nadia Harris.
Directed by Erick Paredes
From Illusion to realization and letting go.
"Music"
DJ KUMI
is an OG name in the Miami music scene. He's leant his ample knowledge of music at resident spots like Wood Tavern and his WDNA Radio broadcast, Brainville for years. He has also given Gramps a weekly Excursions dance jam every Friday and each one is funkier than the next.
Special Thanks to Our Sponsors:
Miami-Dade County Department of
Cultural Affairs.
Miami-Dade County Mayor.
Board of County Commissioners,
State of Florida.
Department of State, Division of
Cultural Affairs .
Florida Council on Arts and Culture.
FOR MAC & iPhone Visit: https://altvr.com/altspacevr-mac/