Moksha Roots*Live*
FRIDAY – APRIL 18, 2014

*Moksha Roots Live*
7th Circuit Productions and Moksha Family Arts Collective present Moksha Roots Live, also the official after party for The Rhythm Foundation's Big Nights in Little Haiti. Come out and vibe with us, support this ongoing monthly gallery opening, live music and drum jam bringing together all the diverse cultural roots of Miami.
Always featuring new special guests each month, this month's bands inside:
~Rudy & the Creole Rockers~
(Eclectic Haitian music)



~MOKSHA ROOTS ALL-STARS ~
The Moksha Roots Collective Band is a constant rotation of Miami's finest roots and world music musicians with international guests. Our special guest musicians all unite to deliver an eclectic Jam. You never know who may join the jam.
This All Star Group includes:
BAGGA TRAK – HARRY LACOUNTE –
RENE BAILEY – RYAN B. & many special guests!
~CAPTIVE EDDIES~
Their music is rooted firmly in conscious lyrics that are not afraid to face the darkness in order to bring light to every aspect of the human heart.
DJs…
~MELLO-D~(resident)
HOST..
~SOPHIE MOON~
*MOKSHA ART GALLERY*
We feature our gallery filled with world renown visionary artists as well as our local Miami Artists.
*Gallery showcase*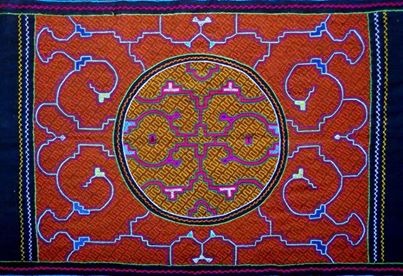 Environmental Art Exhibition with:
 ~ Kiro Fox Ace, Eva Ruiz, Lloyd Goradesky, Brian F. Call, Lauranda Hook, Peter Barreda, Margrit-Rose People, Aeric Moskowitz, Alissa Christine, Flex Maslan, Brian Pruitt, Rei Ramirez, Abdiel Acosta, Jorge Muriel, Wesley Geometry, Jake Cordero, Luis Alejandro Diaz, Jean Sarmiento, Mike Jones, Anibal Fernandez, Chia Ortegon, Stephanie McMillian, Aiyesha Ghani, Claudia Costa, Anastasia Sultzer and more~ 
LIVE PAINTING
Jake Cordero, Rei Ramirez + Anibal Fernandez
*MOKSHA BOUTIQUE*
Filled with exquisite visionary art posters, cards, stickers, books, cds, jewelry, clothing, hand made crafts & much more!
OUTSIDE:
FULL MOON TRIBAL DRUM JAM AND DJs
Percussionist, Fire dancers, Hula Hoopers, Musicians, Performers…
Are Welcome with FREE Admission until 11:00am!
*SPECIAL GUEST DJ*
*Drummers*
~Lead by Danny Kevin Hearne~
*Performance Art*
~Unity is Change~
*PLEIADEAN LOUNGE*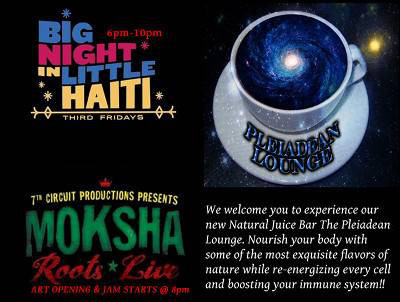 Check out our new bar with all organic Kava, Kambucha, Roots Drinks, Special Teas and Amazing juices. There will also be a full alcohol bar..
*FULL BAR*
*EVENT DETAILS*
FRIDAY 4-18-2014
ART OPENING & JAM STARTS @ 8pm
FREE ADMISSION BEFORE 10:00pm
10PM – 4AM 18+Over /$10
(must have valid id)
THIS MONTH COME AND
CELEBRATE YOUR BIRTHDAY WITH US!!
 

$5 Discount for Aries

! 
7th Circuit Productions/Moksha Gallery
228 NE 59th ST MIAMI FL 33137
WATCH THE LIVE STREAM HERE
and don't miss next Months –
Moksha Roots Live – 05/16/14!!