Moksha Roots*Live*
*Grassroots Festival Pre-party*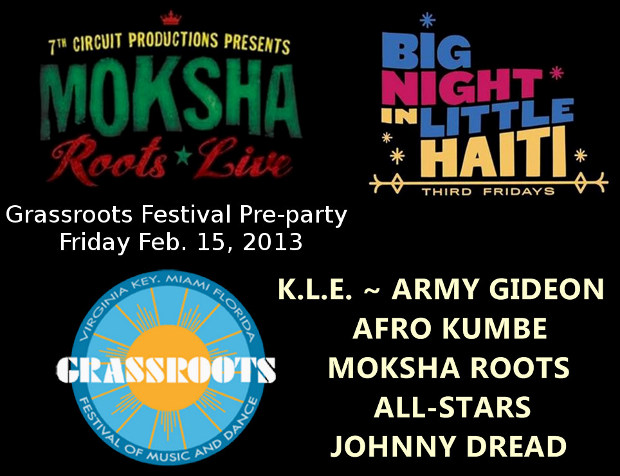 The Virginia Key Grassroots Festival and Moksha Family Arts Collective present Moksha Roots Live, also the official after party for The Rhythm Foundation's Big Night in Little Haiti. Come out and vibe with us, support this ongoing monthly gallery opening, roots jam and down tempo experience bringing together all the diverse cultural roots of Miami.
This month's Moksha Roots Live will be the official pre-party for the Virginia Key GrassRoots Festival of Music & Dance, which will be held February 21-24, 2013 at the Historic Virginia Key Beach Park. For more information about this festival and our partnership with Moksha please visit:
FEATURED ACTS THIS MONTH:
~K.L.E.~


Haitian kompa Band
~ARMY GIDEON~


Army Gideon is a high energetic band of musicians with an extensive library of live music and songs of freedom. While maintaining a historical background of Caribbean and African roots, Army Gideon is based out of Fort Lauderdale, FL.
~AFRO KUMBE~


Caribbean Mash Up Masters, Locos por Juana, new Side Project, using Electronic Elements with Colombian Folklore Pecussion.
~MOKSHA ROOTS ALL-STARS~


The Moksha Roots Collective Band is a constant rotation of Miami's finest roots and world music musicians with international guests. Our special guest musicians all unite to deliver an eclectic Jam. You never know who may join the jam.
This All Star Group includes:

~BAGGA TRAX-HARRY LACOUNTE-RENE BAILEY-RYAN B.~
SPECIAL GUESTS THIS MONTH:
~JOHNNY DREAD~
DJs…
~MELLO-D~

(resident)
*MOKSHA ART GALLERY*
The gallery is always featuring many world renowned visionary artists as well as our local Miami Artists.
Art Exhibition:
Special close up viewing of Moksha Family Symbols by:
~ADAM SCOTT MILLER~
~ALVARO SANTAMARIA~
~AMANDA SAGE~
~ARNOLD STEINER~
~BHAKTI BAXTER~
~CHRIS DYER~
~EVA RUIZ~
~FIORELLA PODESTA~
~FRANK GARCIA~
~KRISTI WOODWARD~
~LEBO~
~REINIER GAMBOA~
Outside:

*PYRAMID SESSIONS*
Keeping the Moksha Art Fair vibe alive we bring you the "PYRAMID SESSIONS", world dub, downtempo, psybient music. All-night "You're the Cure" celebration at Pyramid Sessions including visual art, fire dancing, and a live performance by Unity is Change that will inspire you to bring balance to yourself!
D.J.s:
~DJ CARE~
~MILK DUBZ~

(MILKY)
MORE T.B.A
**Performance Art***
~UNITY IS CHANGE~
~SOPHIE MOON~
Lighting, visuals and recording By:
~PETE AGUDELO~
~TIM STOUT~
Sacred Space Lounge
*EVENT DETAILS*
FRIDAY 02-15-2013
10PM – 4AM @ 7th Circuit Productions
228 NE 59th ST MIAMI FL 33136
18+Over /$10
Gallery and yard open 8pm.
!! FREE ADMISSION BEFORE 10:00PM !!
Available Now – 4 DAY TICKETS to The Virginia Key Grassroots Festival at reduced prices + Moksha Bonuses! CALL for Tickets 305-757-7277 . Tickets may also be purchased at The Pre-Party.
Limited Tickets Available for our group.
Buy your ticket from us and be part of the Moksha group!!!