Moksha Roots*Live – November 18, 2011
SPECIAL SCORPIO CELEBRATION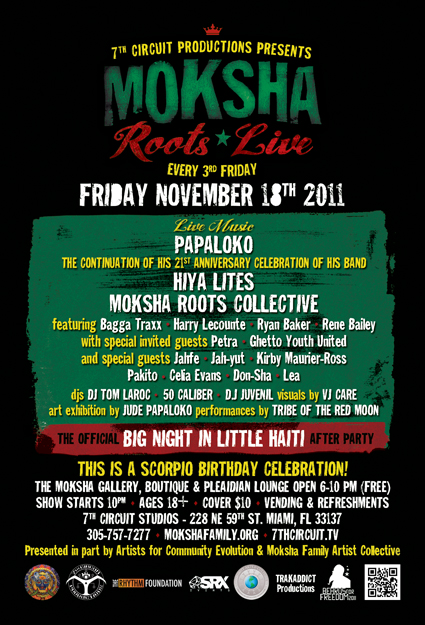 7th Circuit Productions, Moksha Family Arts Collective and Artist for
Community Evolution presents Moksha Roots Live, the official after party
for The Rhythm Foundation's Big Nights in Little Haiti…
THIS IS A SPECIAL SCORPIO CELEBRATION!!!
HAPPY BIRTHDAY TO RAY ORRACA, BAGGA TRAK, VJ CARE and MORE
FEATURING BANDS THIS MONTH…
PAPALOKO
We are hosting the continuation of his 21st Anniversary celebration of his
Band at our after party for Big Night in Little Haiti. Papaloko an artist
and musician formed Loray Mistik in 1989, a vodou pop band that would go
on to become one of the signature sounds of his new home in Miami. His
band was voted best Haitian Band of Miami in 2006 by the Miami New Times.
ALSO FEATURING ART EXHIBIT WITH JUDE THEGENUS "PAPALOKO"…
He is an artist, whose work is born through trance, the act of falling
into a deep meditative state and then being possessed by a spirit whose
purpose is to paint strokes of life onto canvas.
&
HIYAH LITES
EVERY MONTH…
MOKSHA ROOTS COLLECTIVE – The Moksha Roots Collective Band is a constant
rotation of Miami's finest roots and world music musicians with
international guests. Our special guest musicians all unite to deliver an
eclectic Jam. You never know who may join the jam.
This All Star Group includes…
BAGGA TRAXX – HARRY LACOUNTE – RYAN BAKER – RENE BAILEY
OUR SPECIAL INVITED GUESTS…
PATRA
DANCE HALL QUEEN
GHETTO YOUTHS UNITED
This record label and crew was created by the Marley Brothers to help
underprivileged youths who fight the struggle to survive. It was created
by Ziggy, Stephen, Julian and Damian Marley who are all sons of
legendary reggae artist Bob Marley.
JOINING MOKSHA ROOTS COLLECTIVE…
JAHFE
Their musical style fuses roots reggae with many other genres including
rock, dub, soul and R&B, creating a unique blend of organic sounds.
Collectively, Jahfe´ has worked with Lauryn Hill, Wyclef Jean, Thievery's
Corporations, Ky-Mani Marley, the BlackOut Movement, Paul Fakhourie
(producer: Lauryn Hill, Stephen Marley, Damian Marley, Gwen Stephanie),
Karl Pitterson, Inner Circle and The Grammy Foundation, among others.
POKITO
Jean, "POKITO" Almatas is the leader of the band Jean P Jams…a special
blend of world beat music he calls DEEP ROOT.
DON-SHA
Miami's Reggae Don. Featured in the CBS National & So. Fla. commercial for
the new 'Hawaii Five-O'. Also this upcoming reggae star is a recipient of
the Qool award for best reggae in South Florida.
RALLY RE
LEA
DJ…
DJ TOM LAROC
DJ Tom Laroc's musical format of R&B/Hip-Hop, Soul, and Reggae artists
combined with his sheer originality make him continuously sought after to
spin at leading nightclubs in Miami, New York, Los Angeles.
&
50 CALIBER
&
DJ JUVENILE
PERFORMANCE ART….
TRIBE OF THE RED MOON ~ Lucky Bruno, Tribe of the Red Moon, has been part
of the Moksha Family Arts Collective for the past 8 years. His
performances aim to create a sense of global circus hysteria, with the
extreme hope of touching and captivating his audiences with joy and
inspiration.
VJ CARE ~ Environmental light queen aka CARE is an international video
artist originally from Seattle, Wa. Her vision is to create multi-sensory
experiences that connect, inspire & engage.
EVENT DETAILS FRIDAY 11.18.2011
10PM – 3AM @ 7th Circuit Productions 228 NE 59th ST MIAMI FL 33136
18+Over /$10
!! FREE ADMISSION BEFORE 10PM !!
Come early and have a drink in the Pleidian Lounge , explore the Moksha
Art Gallery & The Moksha Boutique open 6pm – 10pm FREE
For more information: www.mokshafamily.org / 305.757.7277
THIS MONTH'S FLYER ART, "FREEDOM" by JUDE PAPALOKO