REVOLUTION/EVOLUTION
Saturday – September 28, 2013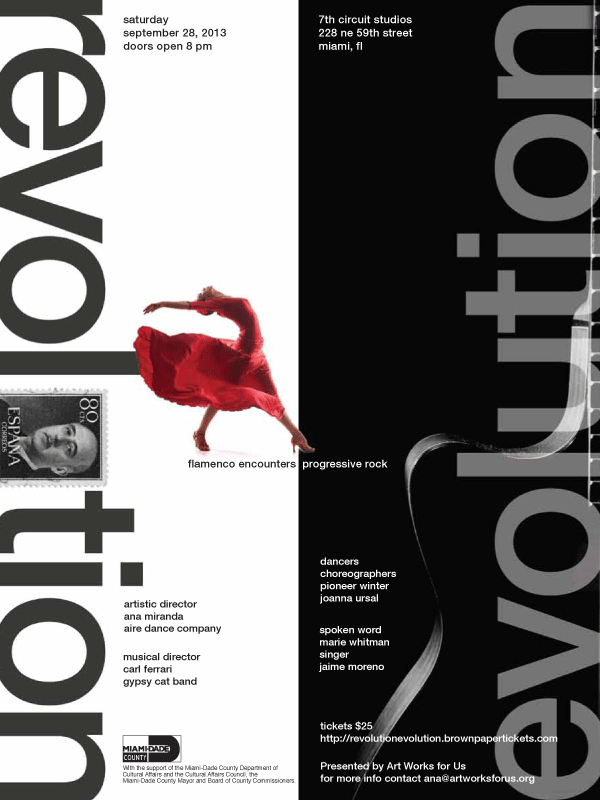 7th Circuit Studios, 228 NE 59th St,
September 28, 2013, doors open at 8pm.
 In this production we will bring a new perspective to the ongoing dialogue between FLAMENCO and PROGRESSIVE ROCK.
Experimentation between these forms was pioneered by flamenco artists such as Camarón de la Isla, Lole y Manuel and the iconic Spanish rock group Triana. Lead by Artistic Director Ana Miranda and Musical Director Carl Ferrari, this multimedia event will feature CONTEMPORARY DANCE AND MUSIC from Aire Dance Company and the Gypsy Cat Band.

Our cast includes:
Ana Miranda
Carl Ferrari
Pioneer Winter
Joanna Ursal
Andres Roa
Ronald Rodriguez
Richard Rippe
Marie Whitman
Jaime Moreno
 
Advanced sale tickets can be purchased NOW at
$25 General Admission, limited seating 
(Please buy early, our last show SOLD OUT quickly!)
 
For supporters like you, we have a limited number of discounted tickets at $15, if purchased by 9/15, at the image above. 
To access this discount, use the password "triana."
 
 Out of town?? Feeling generous?? 
DONATE to our KICKSTARTER campaign for the show!!
 
Learn more about our project at Kickstarter:

Click Here


 
Just $5 from 400 folks will help us reach our $2,000 goal by
9/23 to boost our production!!
 
Share our campaign and keep the arts alive!