The 6th Annual Moksha Art Fair 2014
"CYBERMYSTICS"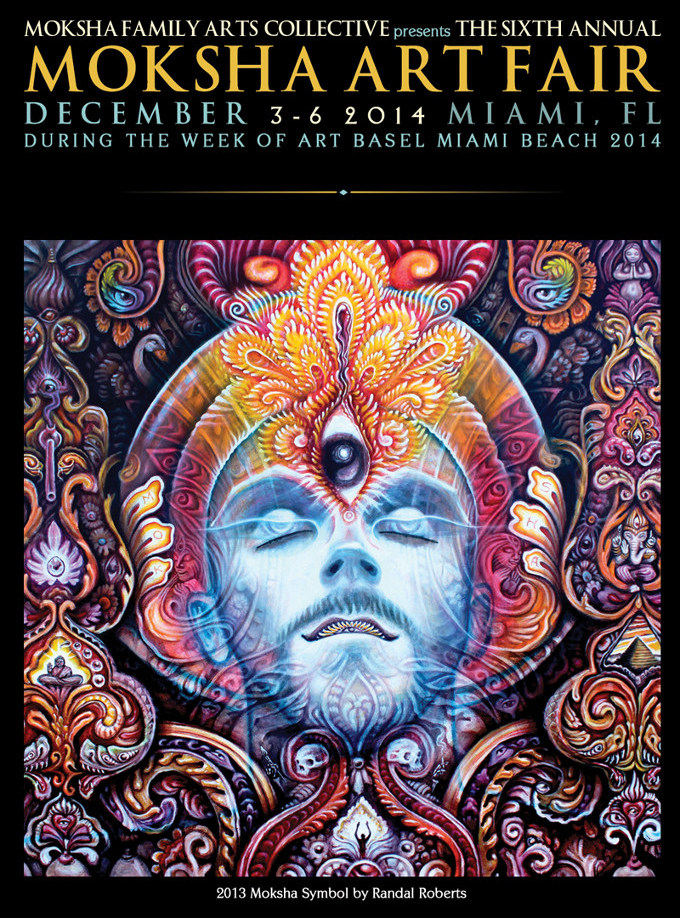 "The level of intelligence has been tremendously increased, because people are thinking and communicating in terms of screens, and not in lettered books. Much of the real action is taking place in what is called cyberspace. People have learned how to boot up, activate, and transmit their brains." – Timothy Leary, Chaos & Cyber Culture, 1994.
The 6th Annual Moksha Art Fair "CYBERMYSTICS" highlights the convergence of artistic expression, technological expansion and conscious awareness. This year we are honored to welcome back Andrew Jones and other national and international artists for exclusive exhibits, digital showcases and live painting. The 2014 Moksha A
rt Fair is dedicated to the 20th Anniversary edition of Timothy Leary's written work "Chaos and Cyber Culture.
About Moksha Family Arts Collective:
From its inception, the Moksha Art Fair has been a nexus of cultural & artistic expression. It celebrates the mysteries that unite us with an eclectic mix of multimedia presentations that are meant to explore the inner landscape on the quest for universal oneness. This annual event takes place during the week of Art Basel Miami Beach, the biggest and most prestigious art expo in North America. Since its debut in 2009, the Moksha Art Fair has become the premier visionary art showcase during this world-class, citywide event. Previously featured artists include Alex Grey, Allyson Grey Grey, the late Robert Venosa, Martina Hoffmann, Mark Henson, Amanda Sage, Carey Thompson, Chris Dyer, Luke Brown, Randal Roberts, Autumn Skye Morrison, Adam Scott Miller, Alex Sastoque & many more.
The Moksha Family Arts Collective is proud to announce the following lineup of Visionary Artists for the 2014 Moksha Art Fair.
GALLERY OPENS:
Daily 12pm–6pm, December 3rd-6th 2014
ADMISSION: FREE… All Ages Daily 12pm–6pm
MAIN GALLERY OPENING: December 3rd 2014 @ 7pm
Featured Artist:
MOKSHA SYMBOL 2014 – Revealed

by ANDROID JONES
Visual Artists:
Our featured artist Andrew Jones will reveal…
THE NEW MOKSHA SYMBOL 2014
@ MAIN EVENT ON DEC 6th.
And a Special Viewing of the Moksha Symbol Collection by:
~ KRISTY WOODWARD ~
MAIN EVENT:
Saturday, December 6th, 2014
Live on 2 Stages, Live Painting, Performances,
Vendors & Much, Much More!
Art Opening & Ceremony
December 3rd. led by:

Miami Miccosukee Tribe
~HOUSTON CYPRESS~
Guatemala Mayan Shaman
~JUNJKOT ROMEO TEGU~
Native American Church
~AIXA AMANKY~
Director of Kundalini Yoga Miami
~SADHU SINGH~
Church of the Lukumi
~JULIO BENITEZ AWO ORUNMILA~
MULTIMEDIA EVENT & CLOSING PARTY:
FULL MOON
Saturday, December 6th, 2014
Art, live painting, performances, music on three stages, vendors & much, much more!
Music By:
Electronic Inside:
Visuals, Musical Collaboration with:
Silent Disco Yard:
Bands Inside:
~ MOKSHA ALL-STARS ~ Featuring…
~ ITAGUI CORREA ~ (Locos por Juana)
~ AMIN DE JESUS ~ (Suenalo)
~ FABIO PATINO ~ (Lanzallamas)
~ TONY SMURPHIO ~ (Afrobeta)
~ ADRIAN ARREDONDO ~ (Oigo)
~ ANDRES PONCE & SOFI ENCANTO ~ (Elastic Bond)
~ CHANTIL ~ (Dukes Of Art)

~ MONKEY ~
~ ALEJANDRO ELIZONDO ~
~ MARCEL SALAS ~
~ BIG BROOKLIN RED ~
(Curated by MONKYEY VILLAGE)
Bands Tree Stage:
~

PATACON CONSPIRACY~
~ RHYTHM FLOW featuring SEAN DIBBLE ~
~ RAMESH KIRTAN & THE BELOVED ~
~

MANDALA ~ Featuring…
~ JUSTIN HOWELL ~
~ RAJESH BHANDARI ~
~ ZAYNE HOBBS ~
Visual Projections By:
~ ANDROID JONES ~
~ HAI JAK ~
~ TALBOT TBOT SIMONS ~
~ JORDAN ABDELHADI ~ (DIAL8)
~ PETE AGUDELO ~
Live Performances By:
~ IRINA KAZAKOVA ~
~ LUCKY BRUNO ~
~

SUZAN ZUZKA ALLEN~



~ DANGERFUN ENTERTAINMENT ~
~ ALI LUMINESCENT

~
~ FERRON & CHADADDY ~
~ LOTUSTEMPLE ~
~ UNITY IS CHANGE ~
Art Installations:
Healing Tent by:
"CYBERMYSTICS" CELEBRATION:
Saturday Dec 6th, 2014
DOORS OPEN: 8pm / Age 18+
ADMISSION:
FOR FULL MOON-SATURDAY, DEC 6th.
Tickets available at:
7th Circuit Productions,
228 NE 59th St. Miami, FL 33137
For more information # 305-757-7277
Don't miss the Tribe13 Gallery booth #29 at SCOPE during Art Basel Miami Beach.
Moksha Family Arts Collective is a non profit organization, all profits from this event go into continuing our mission and sustaining our location. Look out for the release of our GOFUNDME campaign. Thank you for supporting the movement and Keeping the Vision Alive!
Sponsors:
~

LAGUNITAS BEER ~
~ TITOS VODKA ~
~ WYNWOOD BREWERY ~
~ METRO 1 PROPERTIES ~
~ LOVE THE EVERGLADES MOVEMENT ~
~ COMMUNITY ARTS AND CULTURE ~
~ THE NEW YORKER HOTEL ~
~ ART CRAWL ~
~ 7TH CIRCUIT PRODUCTIONS ~
~ SRX EVENTS ~
~ CHEETAH LOUNGE ~
~ LUMAMERICA ~
~ PLOPPY PALACE PRODUCTION ~

~ KIND HEALTHY SNACKS ~
~ BEARDS FOR FREEDOM ~



Silent Disco Hosted by:
Contact us for info on ways to participate:
For more information # 305-757-7277
Check

Facebook

& Our website for updates!
Let us know you are attending on our Facebook Events Page!
Make your plans now share the event and be part of the experience!