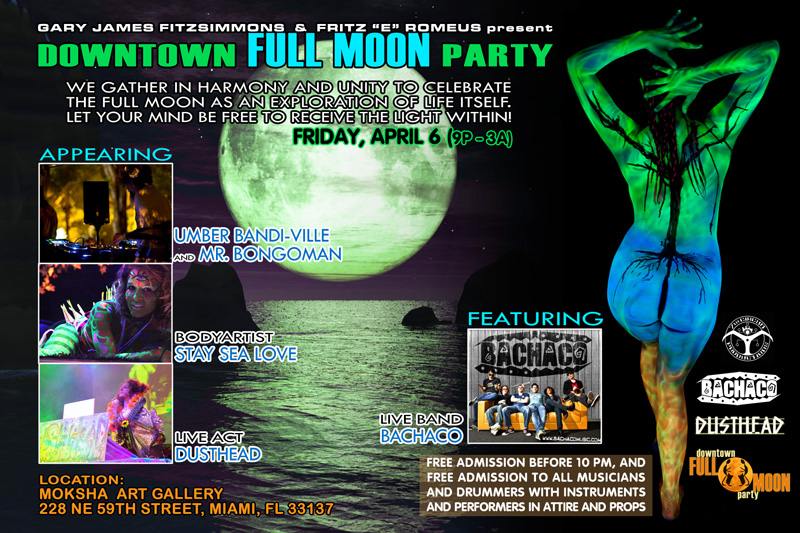 "So powerful is the light of unity that it can illuminate the whole earth."
GARY JAMES FITZSIMMONS, FRITZ "E" ROMEUS, & THE MOKSHA FAMILY
present the
"downtown FULL MOON party"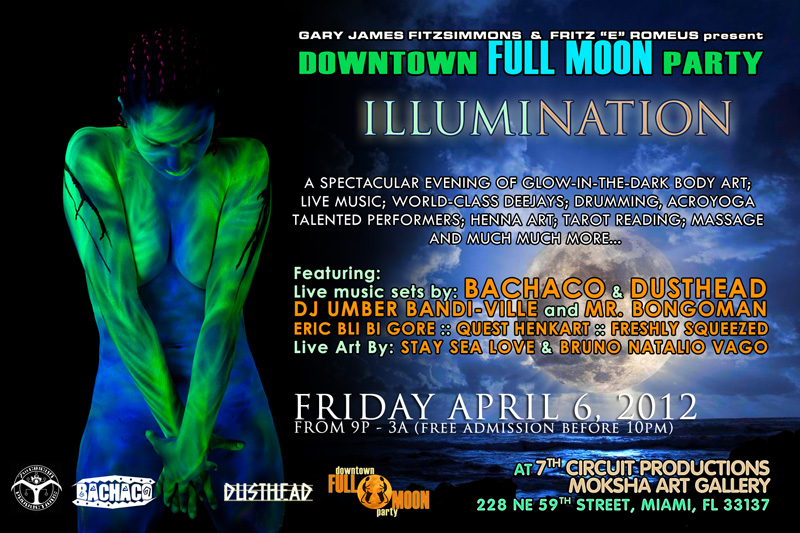 ILLUMINATION
A spectacular evening of glow-in-the-dark Body Art; Live Music; World Class Deejays;Drumming;
AcroYoga: Live Performances; Henna Art;Tarot Reading; Massage; Food; Drinks; and much more…
Please join us as we gather in harmony and unity to celebrate the Full Moon as an exploration and
appreciation of life itself. Let your mind be free to receive the light within!
FRIDAY APRIL 6, 2012
From 9p – 3a (Free Admission before 10pm – $10 after)
@ 7th Circuit Productions
MOKSHA Family Artist Collective
228 NE 59th Street, Miami, FL 33137
***FREE ADMISSION*** TO ALL MUSICIANS AND DRUMMERS WITH INSTRUMENTS
AND PERFORMERS IN ATTIRE AND PROPS
Featuring:
Live Act: DUSTHEAD
Live Band: BACHACO
Deejays: UMBER BANDI-VILLE with Mr. BONGOMAN
Live Art: STAY SEA LOVE and BRUNO NATALIO VAGO
Drum Master: BLI BI GORE ERIC
Fire Performances: QUEST HENKART
Special Performances: THE HULAHOOP TROOP
And much more…
DRUM CIRCLE:
(***Free admission for all drummers and musicians with instruments***)
Long Extended Drumming set will be from 10p – 2a…
The entire outdoor area will be reserved for Drumming Only…
BRING YOUR DRUM AND LET YOUR BEATS BE HEARD!!!
DRESSCODE (Suggested):
ARTISTIC, OUTRAGEOUS, and CREATIVE… DARE TO THE "YOU INSIDE"!!!
HOSTED BY:
Fritz "e" Romeus, Gary James Fitzsimmons; Tracie Samara; Nikki Rodriguez
============================================
**INVITE YOUR FRIENDS**INVITE YOUR FRIENDS**INVITE YOUR FRIENDS**