the downtown FULL MOON Party
Friday August 3,2012 @ 7th Circuit Studios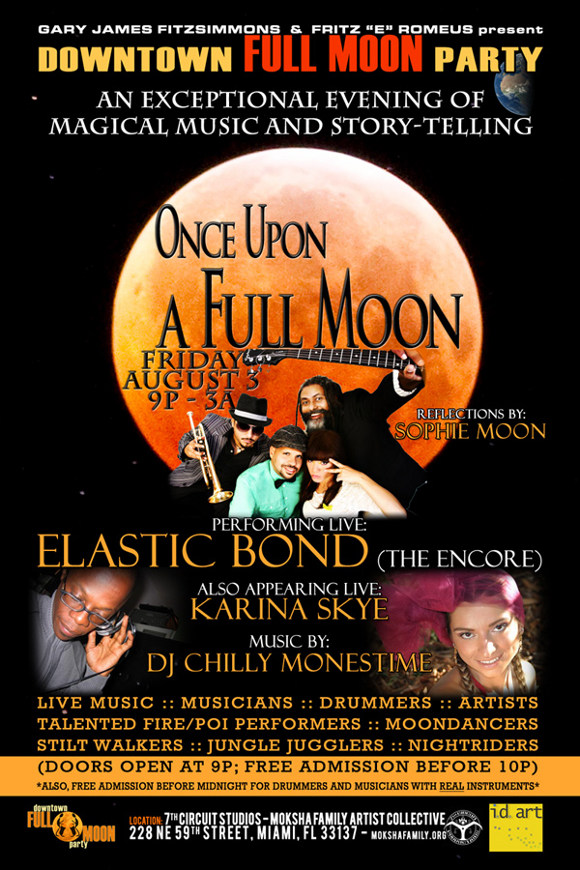 GARY JAMES FITZSIMMONS & FRITZ "E" ROMEUS present
the "downtown FULL MOON party"
"ONCE UPON A FULL MOON"
(An Exceptional Evening of Magical Music and Story-telling)
Leading our entertainment line-up for our next event is one of Miami's most prolific and eclectic bands:
ELASTIC BOND

. Their last performance at the "

downtown FULL MOON party

" was a huge hit, and they are set for a long, extended, Encore Set that will not disappoint. Also, we will have another great talented Singer:

KARINA SKYE

who will be blessing us with her sultry voice and acoustic guitar accompaniment. In addition,

SOPHIE MOON

returns with her words of Reflection. Get ready to dance in the inside area with

DJ CHILLY

; his first time playing at the "

downtown FULL MOON party

", and he is all set to impress!!!
CLASS OF AUGUST 2012
We will be taking a Group Photo at midnight during each of our events. This photo op is opened to everyone who would like to have a nice memory of the party; sorta like your school class picture, but much koooler, of course! All photographers are invited to snap away during this "Get-Together". Everyone will gather on the stage, at the bottom, and around to say "CHEEEEZE", or "downtown FULL MOON party"! So, get there before the clock strikes midnight and be part of the CLASS OF AUGUST '12.
Featuring:
Live Band:
ELASTIC BOND


Live Performance:

KARINA SKYE


Deejay:

CHILLY MONESTIME


Reflections:

SOPHIE MOON


Drum Leader:

BLI BI GORE ERIC


Interactive Art by:

i.d. Art Supply
Fire Performances:
Under the supervision of
JASON PARENTE

–
ALL PROFESSIONAL
TALENTS ARE WELCOMED!!!
Hula Hoopers: Bring your own or buy one at the event…
***FREE ADMISSION (UNTIL MIDNIGHT ONLY)***
TO ALL MUSICIANS AND DRUMMERS WITH
REAL INSTRUMENTS AND PERFORMERS IN ATTIRE AND PROPS


(Free Admission is at the discretion of the Door Staff; meaning that you must bring a real instrument to play it, or be a real performer. Please do not try to abuse this courtesy and ruin it for everyone else;
AFTER MIDNIGHT THERE WILL BE NO MORE,
FREE ADMISSION FOR MUSICIANS / PERFORMERS
INTERACTIVE ART WALL:


Presented by

i.d. Art Supply


One of the top Art Supplies stores in Miami… They will be providing everyone who want to express their artistic talents with paint and brushes and inspiration…
DRUM CIRCLE:


Bring your drum and let your beats be heard!!! The Extended Drumming set will start sometime after 10p – until… Come early to enjoy as much of this as possible.
DON'T MISS:


Many Live performances, light shows, interactive art presented by

Id Art Miami

, fire/poi performances; drummers; musicians; acrobats; tarot reader; Henna Tattoos, AcroYoga performers, hula hoopers; massage therapists, and much more…
DRESSCODE (Suggested):


BE ARTISTIC, OUTRAGEOUS, and CREATIVE!!!
HOSTED BY:




Fritz "e" Romeus, Gary James Fitzsimmons; Tracie Samara; Sol Amor, and Sophie Moon
EVENT INFO:
FRIDAY AUGUST 3, 2012
From 9p – 3a (Free Admission before 10pm – $10 after)
@ 7th Circuit Productions
MOKSHA Family Artist Collective
228 NE 59th Street, Miami, FL 33137
*** You must be 21++ to attend this event ***