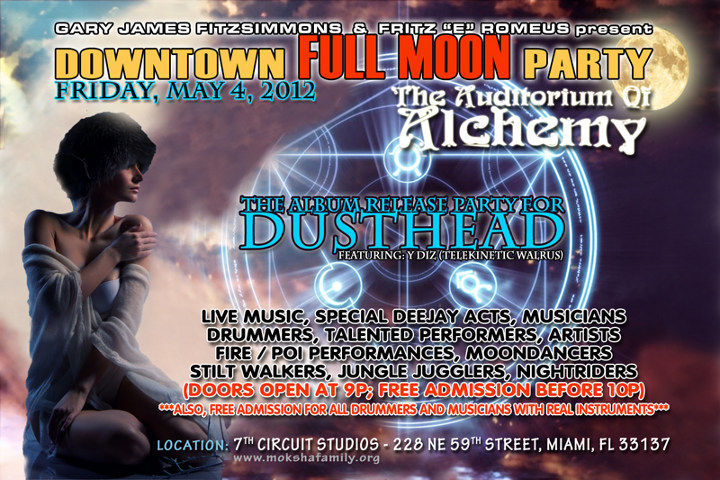 "There is one great truth on this planet: whoever you are, or whatever it is that you do, when you really want something, it's because that desire originated in the soul of the universe…. The soul of the world is nourished by people's happiness."
– The alchemist by Paulo Coelho
GARY JAMES FITZSIMMONS & FRITZ "E" ROMEUS
present the
"downtown FULL MOON party"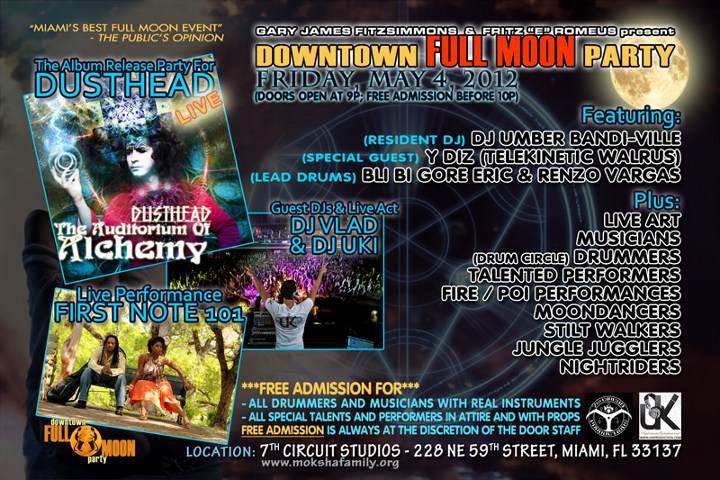 THE AUDITORIUM OF ALCHEMY
This month, the "downtown FULL MOON party" welcomes back by popular demand: DUSTHEAD for their Album Release Party entitled THE AUDITORIUM OF ALCHEMY; bringing sounds of the future and visions from the past to create a performance spiritually and mentally stimulating. This new album contains something different in every song,exploring emotions,deeper senses,and melodies from another dimension.
Making a guest appearance with DUSTHEAD is Y DIZ (TELEKINETIC WALRUS)
Featuring:
Live Act: DUSTHEAD (Album Release Party!!!)
Live Band: FIRST NOTE 101 (Special Appearance!!!)
Resident Deejay: UMBER BANDI-VILLE
Guest Deejays & Live Act: DJ VLAD & DJ UKI
Live Art: IVONNE LANZA, STAY SEA LOVE & BRUNO NATALIO VAGO
Drum Master: BLI BI GORE ERIC
Fire Performances: ALL PROFESSIONAL TALENTS ARE WELCOMED!!!
Hula Hoopers: Bring your own or buy one at the event…
FRIDAY May 4th, 2012
From 9p – 3a (Free Admission before 10pm – $10 after)
@ 7th Circuit Productions
MOKSHA Family Artist Collective
228 NE 59th Street, Miami, FL 33137
    ***FREE ADMISSION*** TO ALL MUSICIANS AND DRUMMERS WITH REAL INSTRUMENTS AND PERFORMERS IN ATTIRE AND PROPS
(Free Admission is at the discretion of the Door Staff; meaning that you must bring a real instrument to play it, or be a real performer. Please do not try to abuse this courtesy and ruin it for everyone else.).
DRUM CIRCLE:
Long Extended Drumming set will be from 10p – 12a and from 1a till close… The entire outdoor area will be reserved for Drumming Only, with the exception of a one (1) hour Live Deejay Set from 12am – 1am.
BRING YOUR DRUM AND LET YOUR BEATS BE HEARD!!!
DRESSCODE (Suggested):
ARTISTIC, OUTRAGEOUS, and CREATIVE… DARE TO THE "YOU INSIDE"!!!
HOSTED BY:
Fritz "e" Romeus, Gary James Fitzsimmons; Tracie Samara; Sol Amor, and Renzo Vargas
============================================
**INVITE YOUR FRIENDS**INVITE YOUR FRIENDS**INVITE YOUR FRIENDS**