GARY JAMES FITZSIMMONS & FRITZ "E" ROMEUS
present
the "downtown FULL MOON party"
Saturday June 2, 2012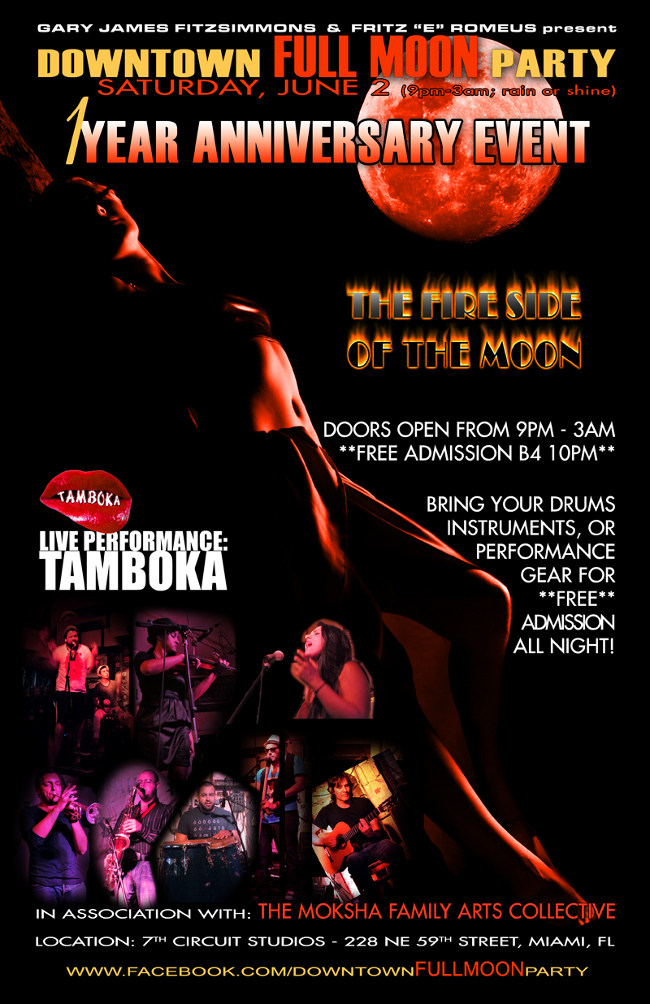 1 YEAR ANNIVERSARY EVENT…
(The Fire Side Of The Moon)
"Time flies when you are having fun…" Yes, it has been a year now since we've started the"downtown FULL MOON party", and we are so excited to see that it continues to grow and enjoyed by most who have attended. We set out from the very beginning to create a very soulful, interactive, entertaining and spiritually stimulating event that anyone and everyone can be a part of; an event in which you feel that you are a participant instead of an observant; an event that makes you feel you are being admired for your accepting attitude; an event which propels everyone to shine their positive vibe and energy in a sharing and loving environment. So far, so good… This is only the beginning as we have so much more in store for you coming up in our future "downtown FULL MOON party" events. Our entire team thank all of you who have supported the party in the past 12 months and we look forward to sharing some more beautiful moments with you soon!!!
Our Next Event:

SATURDAY JUNE 2, 2012
From 9p – 3a (Free Admission before 10pm – $10 after)
@ 7th Circuit Productions
Moksha Family Artist Collective
228 NE 59th Street, Miami, FL 33137
Featuring:
Live Band: TAMBOKA
Live Band: TBD (Special Appearance!!!)
Resident Deejay: UMBER BANDI-VILLE
Guest Deejays & Live Act: TBD
Live Art: BRUNO NATALIO VAGO
Drum Master: BLI BI GORE ERIC
Drum Leader: RENZO VARGAS
Fire Performances:
ALL PROFESSIONAL TALENTS ARE WELCOMED!!!


Hula Hoopers:

Bring your own or buy one at the event…
  ***FREE ADMISSION*** TO ALL MUSICIANS AND DRUMMERS WITH REAL INSTRUMENTS AND PERFORMERS IN ATTIRE AND PROPS
(Free Admission is at the discretion of the Door Staff; meaning that you must bring a real instrument to play it, or be a real performer.Please do not try to abuse this courtesy and ruin it for everyone else.).
DRUM CIRCLE:
Long Extended Drumming set will be from 10p – 12a and from 1a till close… The entire outdoor area will be reserved for Drumming Only, with the exception of a one (1) hour Live Deejay Set from midnight – 1a… BRING YOUR DRUM AND LET YOUR BEATS BE HEARD!!!
DRESSCODE (Suggested):
ARTISTIC, OUTRAGEOUS, and CREATIVE…
DARE TO THE "YOU INSIDE"!!!
HOSTED BY:
Fritz "e" Romeus, Gary James Fitzsimmons; Tracie Samara; Sol Amor, and Renzo Vargas
============================================
Facebook
**INVITE YOUR FRIENDS**INVITE YOUR FRIENDS**INVITE YOUR FRIENDS**