Moksha Family Arts Collective & Grassroots Festival present:
"The Moksha Experience"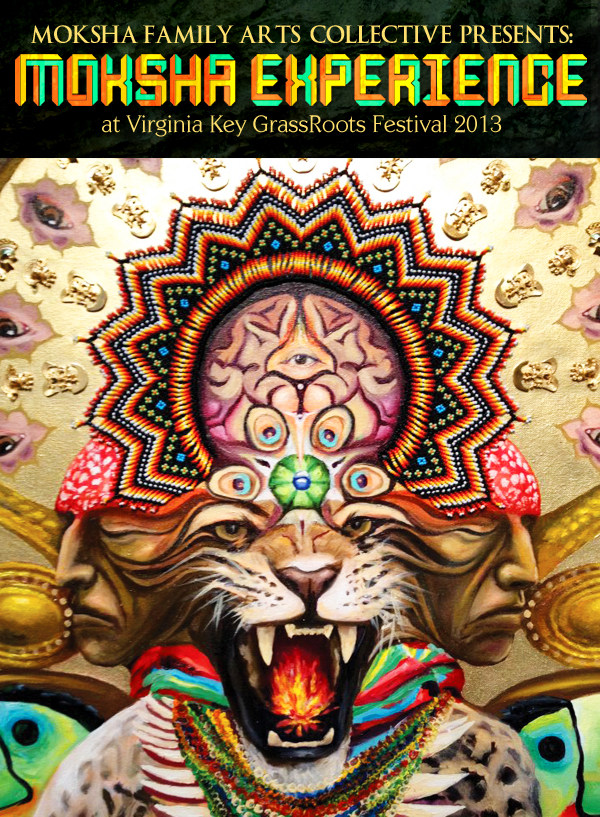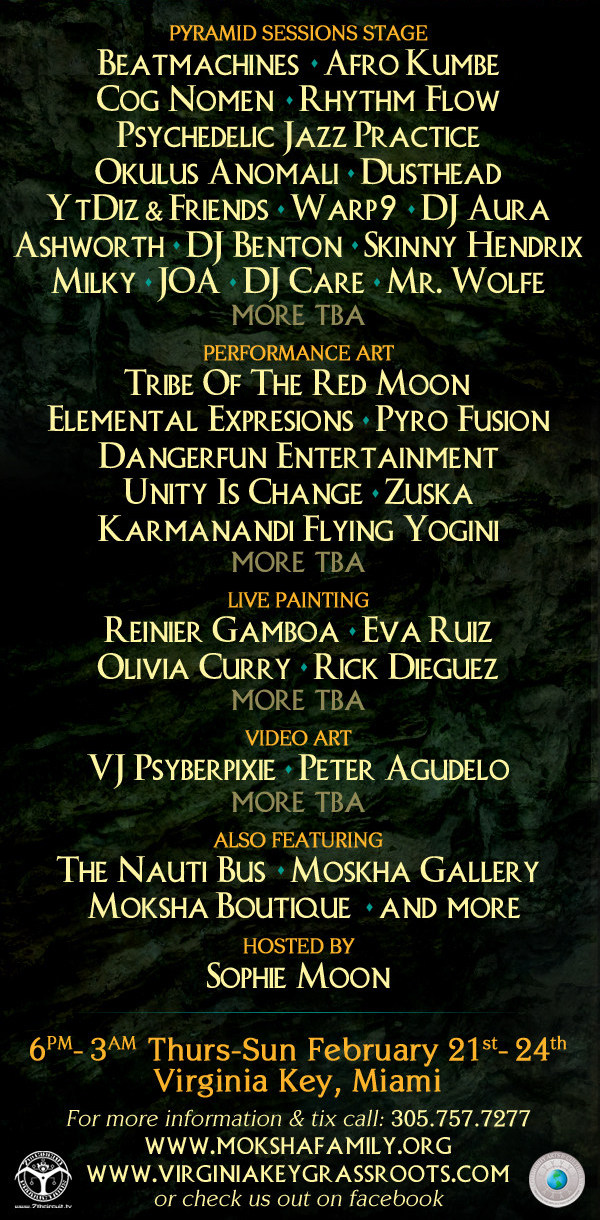 Thursday-Sunday February 21-24, 2013
6PM – 3AM @ Virginia Key, Miami
For the 2013 Grassroots Festival, the Moksha Family Arts Collective has been invited to create the Moksha Experience. This will be a multi-media showcase of local art, music, performance and creative interaction.  We will feature, World, Dub, Downtempo, Chillstep, Moombahsoul, Psybient, Glitch Hop, Acid Jazz, Liquid Funk, Jamtronica & more! All performers are no stranger to the Sonic Alchemy of Musical Magic and are sure to treat your ears, hearts & feet with Mind Expanding Grooves.
*Sharing the Crystal Pyramid outdoor sound system*
~RHYTHM FLOW~ (Moksha)
~D.J. AURA~
~JOA~
~DJCARE~
~Mr. Wolf~
    and more T.B.A.
    *Live painting*
~REINIER GAMBOA~
~EVA RUIZ~
~OLIVIA CURRY~
~RICARDO DIEGUES~
and more T.B.A.
*Video art*
~VJ PSYBERPIXIE~
*Performance Art By*
~TRIBE OF THE RED MOON~
~ELEMENTAL EXPRESIONS~
~PYRO FUSION~
~DANGERFUN ENTERTAINMENT~
~UNITY IS CHANGE ART PROJECT~
~ZUSKA~
~KARMANANDI-FLYING YOGINI
and more T.B.A.
*HOSTS*
~SOPHIE MOON~
*EVENT DETAILS*
If you buy the limited tickets from Moksha Family for the same presale price as Grassroots Festival, you will get a Moksha wristband that will give you special benefits, treats and surprises. PVM's Nauti bus will be there! You can't pass up camping on Virginia Key for 4 days!

Available Now – 4 DAY TICKETS to The Virginia Key Grassroots Festival at reduced prices + Moksha Bonuses! CALL for Tickets 305-757-7277 . 
Limited Tickets Available for our group.
Buy your ticket from us and be part of the Moksha group!!!
Virginia Key GrassRoots Festival of Music and Dance
Historic Virginia Key Beach Park
4020 Virginia Beach Drive,
Miami, Florida 33149
 Explore the Moksha Art Gallery & The Moksha Boutique.