Synergy Yoga presents: WAH IN CONCERT!
Saturday, January 21, 2012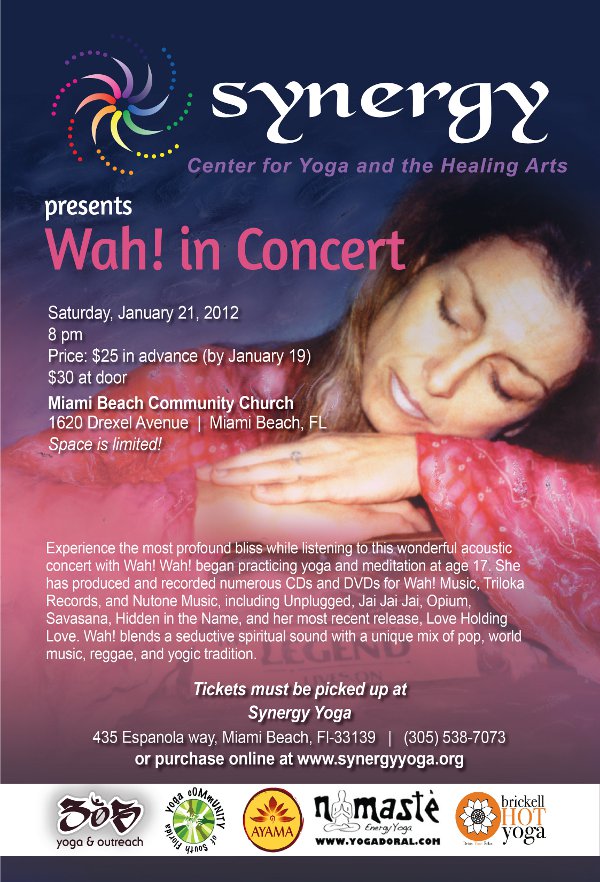 Experience the most profound bliss while listening to this wonderful acoustic concert with Wah!
Wah! began practicing yoga and meditation at age 17. She has produced and
recorded numerous CDs and DVDs forWah! Music, Triloka Records, and Nutone Music,
including Unplugged, Jai Jai Jai, Opium, Savasana, Hidden in the Name, and her
most recent release, Love Holding Love. Wah! blends a seductive spiritual sound
with a unique mix of pop, world music, reggae, and yogic tradition. She is
author of Dedicating Your Life to Spirit.
Wah has being a icon of Music on the yoga world for over a decade.
See some reviews below:
www.buy.com :"Wah! has become a sensation in the yoga world with her spiritual, Eastern-tinged sound."
Yoga Journal Magazine: "Mantra-scene veteran Wah! seems to be halfway between
samadhi (union) and ecstasy. Her theme is the oneness of Divine love and eros.
Wah! lays down her love dharma in sultry downtempo grooves, throbbing club
beats, and spoken-word rap passages. When the groove's in full gear, she has us
right where she wants us: blissed out and deep in the throes of a love that can't be labeled."
NY Spirit Magazine: "Wah! injects something a little trippier to create a mellow
groove that's luscious and highly addictive."
Come to enjoy a magical evening in a sacred space, sparkle with the most yummy Holistic
Arts for a complete experience.
5:30pm
Taro Cards* Aura readings* Astrology Charts* Massage chairs* Reike*
Henna*Mendhi*  Acroyoga* and Much more!
WAH in concert* 8:00pm
$25 In Advance ( until January 19 )$35 at the door
Must pick up your tickets at Synergy Yoga
435 espanola way, South Beach( 1 block from the Church)
LIMITED SPACE! – info: 305 538 7073 – SEE YOU THERE!
________________________________________________________________
BHAGAVAN DAS IN MIAMI BEACH!
Satsang*Temple of Sound* Kirtan* Love poems
February 17-19, 2012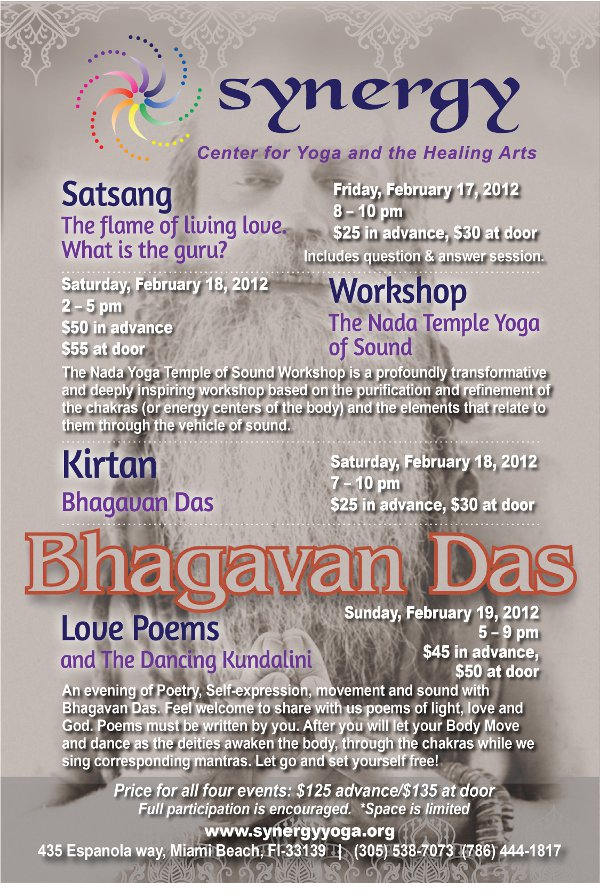 Friday, February 17, 2012 Satsang 8-10 pm
"Flame of living love. What is the guru"
plus question and answer discussion
$25 in advamce/ $30 at the door
Saturday, February 18, 2012
Temple of Sound Nada Yoga Workshop 2-5 pm
$50 in advance/$55 at the door
Saturday, February 18, 2012 Kirtan 7-10 pm$25 in
advance/$30 at the door
Sunday, February 19, 2012
Love Poems and The Dancing Kundalini 5-9 pm
An evening of Poetry, Self-expression, movement and
sound with Bhagavan Das Feel welcome to share with
us poems of light, love and God.
Poems must be written by you.
After you will let your Body Move and dance as the deities awaken the body,
through the chakras while we sing corresponding mantras.
Let go and set yourself free!
$45 in advance/$50 at the door
All four events
$125 in advance/$135 at the door
For entire 3 day weekend event.
Get your tickets here:
SPACE LIMITED, PLEASE PLEASE PRE REGISTRATION HIGH RECOMMENDED!
For more info: 305-538-7073