Miami Entheogenic Society & Moksha Arts Collective Present
William Padilla Brown's Mycosymbiosis
Fungal Philosophy and Cultivation Tips
July-9th.-2021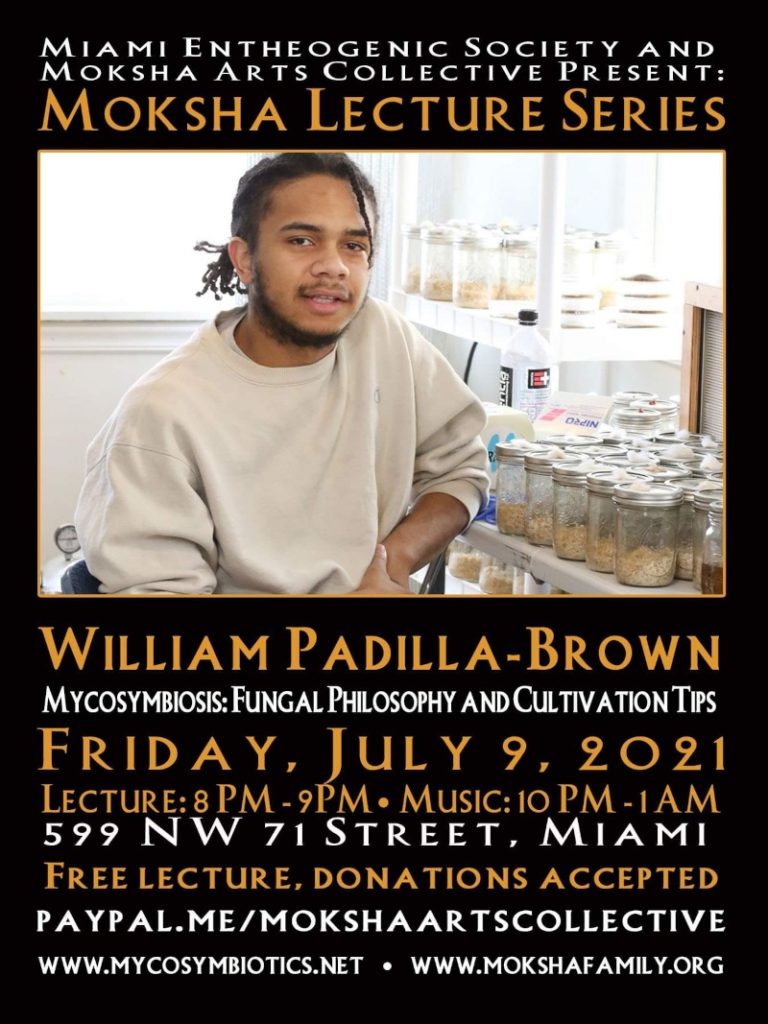 William Padilla Brown's Mycosymbiosis:
Fungal Philosophy & Cultivation Tips!
Founder of MycoSymbiotics, William Padilla-Brown is a Multi-Disciplinary Citizen Scientist practicing social science, mycology, phycology, molecular biology, and additive manufacturing. He is the author of The Cordyceps Cultivation Handbook and was featured in the film "Fantastic Fungi".
Miami Entheogenic Society is back!
This event will be hosted by Mitch Pierce & launches our resumed monthly meetings.
This is a private event but please invite like-minded friends to attend.
Chill grooves by:
~ DJ MELLO-D ~
Music:
~ Ras Kiva ~ CD Release
WWW.ADIOSBABYLON.COM
Snacks and soft drinks available.
Admission:
Free but donations are appreciated
paypal.me/MokshaArtsCollective
The Moksha Gallery/Studio is located at
599 NW 71st Street, Miami FL. 33150
Between I-95 and 7th Ave/441 on 71st St.
For more information call 305-757-7277
or gallery@mokshafamily.org
The Moksha Arts Collective is a federally recognized, 501(c)3 public charity, donations to. Moksha Arts Collective are tax-deductible. Your contributions and support for our events helps to continue our community efforts. We need volunteers, donations and sponsors, if you want to get involved contact us! info@mokshafamily.org