Moksha Arts Collective Presents
Moksha VR Gallery 2021
@ Burningman in AltspaceVR
Sept 3rd, 2021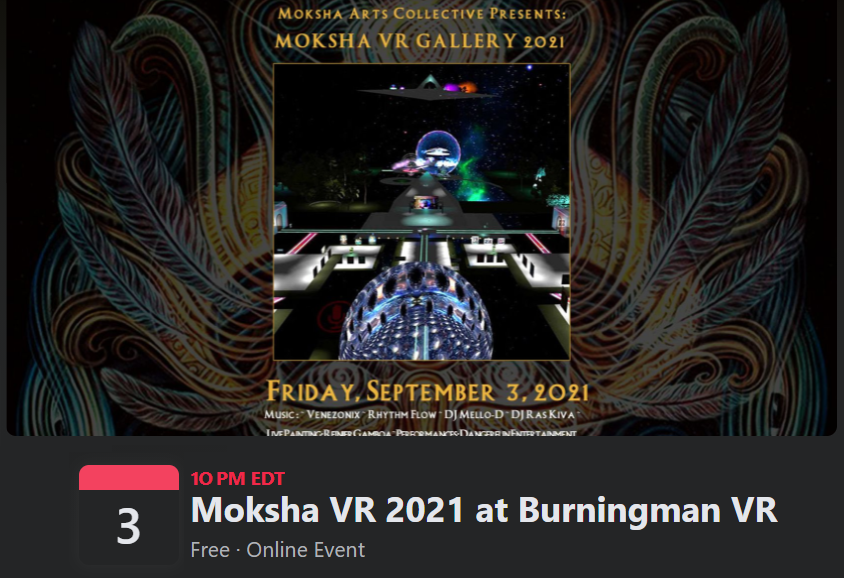 https://account.altvr.com/worlds/1490964177471144675/spaces/1613726911593185563
We're back for Burningman VR 2021 within the Altspace platform and on the virtual playa. This year, we've added artists Raul Casillas Romo, Dela and Nouuan to this continually evolving gallery. The official event will occur during Burn Week on Friday, September 3, 2021. The recorded set will also be available on Saturday.
We are presenting a showcase of Miami local talent, including:
Music
~ Galactic Effect ~
~ Venezonix ~
~ Rhythm Flow ~
~ DJ Mello-D ~
~ DJ Ras Kiva ~
Live Painting
~ Reinier Gamboa ~
Performances
~ Dangerfun Entertainment ~
The VR gallery, programmed and designed by JC Fractal, curated by Moksha features three levels of group exhibitions with 2D works from international visionary artists in alphabetical order:
"Temple Of The Masters"
Alex Grey, Allyson Grey, Mark Henson, Martina Hoffman, Robert Venosa
"Moksha Symbols Temple and Artist Galleries"
Adam Scott Miller, Amanda Sage, Android Jones, Bhakti Baxter, Chris Dyer, Eva Ruiz, Fiorella Podesta, Frank Garcia, Lebo, Nouuan, Olivia Curry, Randal Roberts, Reinier Gamboa
"First Level Group Exhibition"
Ben Ridgway, Bryan Itch, Bryan Lahr, Carrie Ann Baade, Ct Nelson, Dela, Donna Torres, Jonathan Solter, Krystleyes, Lauren Nova, Luke Brown, MEAR ONE, Morgan Mandala, Nouuan, Pascal Ferry, Raul Casillas Romo, Robert Steven Connett, Ryan Cacolici, Seth McMahon, Stella Strzyzowska and Subtle Codes.
3D works on Display Include:
"Samskara 360" Android Jones Dome Experience
"Interactive Sculpture Art Gardens"
Dreamseed VR, JC Fractal, LUVRworldwide, Sabby Life, Sara Phinn
Live electronic music sets on Friday, September 3rd will also be available in Altspace on Saturday.
Download it and check it out, its available for Oculus headsets, HTC Vive, Windows Mixed Reality & Mac and PC desktops!
Come to our VR event Friday.
Here's the links to the platform.
https://account.altvr.com/worlds/1490964177471144675/spaces/1613726911593185563
https://altvr.com , Mac – https://altvr.com/altspacevr-mac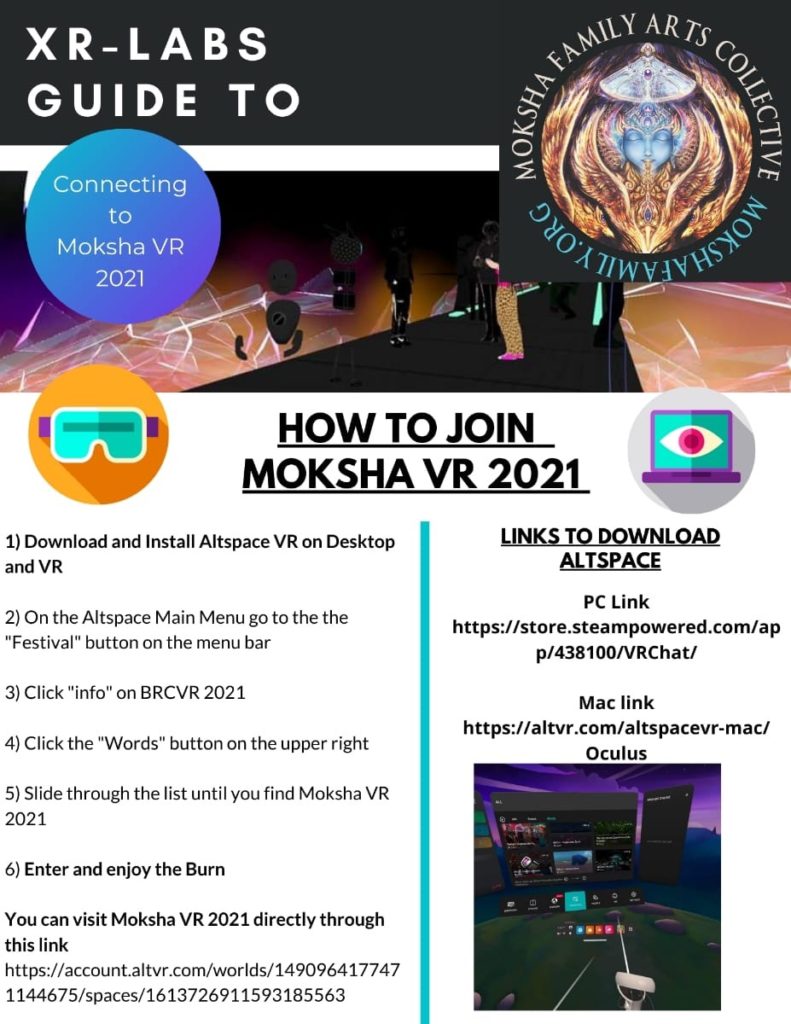 **PLEASE NOTE: AltspaceVR platform has to be downloaded and installed in order to access the gallery on Mac, PC or Occulus.
This event is made possible with the support of the Miami-Dade County Department of Cultural Affairs and the Cultural Affairs Council, the Miami-Dade County Mayor and Board of County Commissioners. Sponsored in part by the State of Florida, Department of State, Division of Cultural Affairs and the Florida Council on Arts and Culture. Thanks to XR Miami.
Donations are welcome, appreciated and needed! Moksha Arts Collective is a 501(c)3 public charity all donations are tax deductible, please contact us if you need a letter for your donation.
https://www.paypal.com/paypalme/MokshaArtsCollective