Moksha Arts Collective @ the Hangar
Saturday, March 11th. – 3:00pm EST
FEYLINE
&
PAPILLON PAVILION RECORDS
PRESENTS:
Minnesota & Bass Physics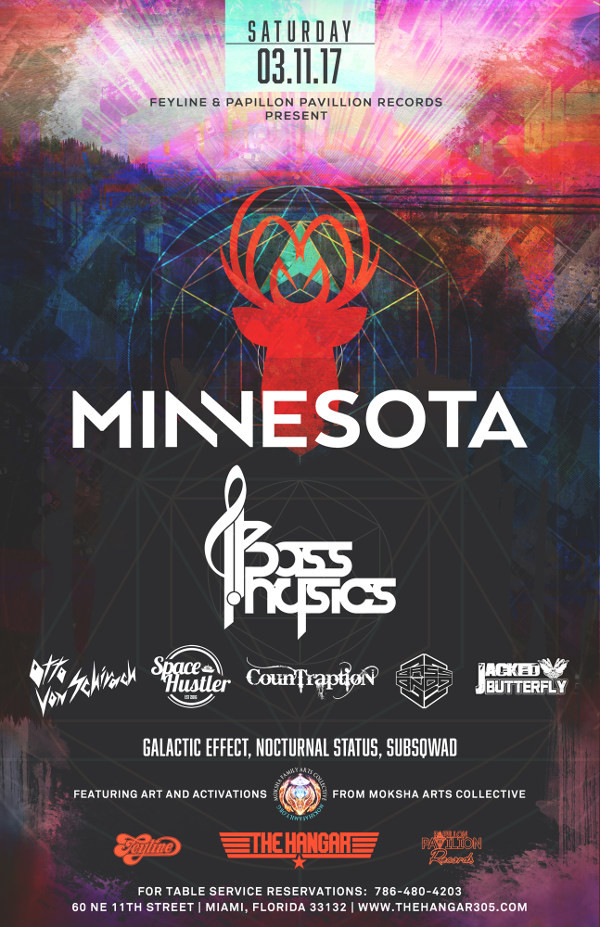 In celebration of  it's new record label launch, Papillon Pavilion Records is bringing renowned producer Minnesota to Miami for a set at the Hangar on Saturday, March 11th! Minnesota will be joined by Colorado-based producer Bass Physics plus a showcase of Papillon Pavilion Records artists!
Click Here for Minnesota + Bass Physics
Tickets
Papillon Pavilion Records & Entertainment
More than a record label, it's a movement. PPR is a pipeline for songs, sounds and sights that have never been experienced before. Utilizing ground-breaking technology in live performances to engage the audience in every show, PPR is set to be a revolutionary force in the music industry.
With its 2017 launch, Papillon Pavilion Records aims to bridge gaps between artists and fans, create genre-clashing worldwide sounds and transform shows into interactions. 15% of all profits from music, tickets, and merchandise sales goes to charity, with a new charity being picked every six months. The bigger we get, the more we will give back, until our over-goal is achieved. That goal
is to directly change the world through music.
PPR Website
Moksha Arts Collective
From its inception, the artistic collective known as Moksha Family has been a nexus of cultural and artistic expression. Comprised of artists, musicians, technicians, and visionaries, we celebrate the mystery that unites us with an eclectic mix of performances by individuals and groups from the local and international communities.
Electronic producer Minnesota breaks aways from the various subgenres of EDM while holding onto origins of dubstep and hip-hop, creating atruly authentic experience for his audience. "My goal is to make bass heavy dubstep/glitch-hop music that'll get you dancing."
Denver-based producer Arja Adair's main objective is to spread positive vibes through the power of music. His genre-bending sound is made up of soulful electronic beats fused with live guitar and keys, resulting in both beautifully expressive sonic landscapes and songs that explode with power.
OTTO VON SCHIRACH
https://soundcloud.com/otto-von-schirach
SPACE HUSTLER
https://soundcloud.com/spacehustlers
COUNTRAPTION
https://soundcloud.com/countraption

BASS BNDR
https://soundcloud.com/bassbendermusic
JACKED BUTTERFLY
https://www.papillonpavilion.com/jacked-butterfly
THE GALACTIC EFFECT
https://soundcloud.com/thegalacticeffect

NOCTURNAL STATUS
https://soundcloud.com/nocturnalstatus
SUBSQWAD
https://soundcloud.com/subsqwad
~LIVE PAINTING~
STELLA STRZYZOWSKA GUILLEN
http://stellasg.com
Get your tickets to Minnesota at the Hangar 3/11!

THE HANGAR – 60 NE 11th St, Miami, FL 33132