Moksha Arts Collective presents "Indivisible"
Hosted by Moksha Family Arts Collective
Saturday, August 12 at 6 PM – 3 AM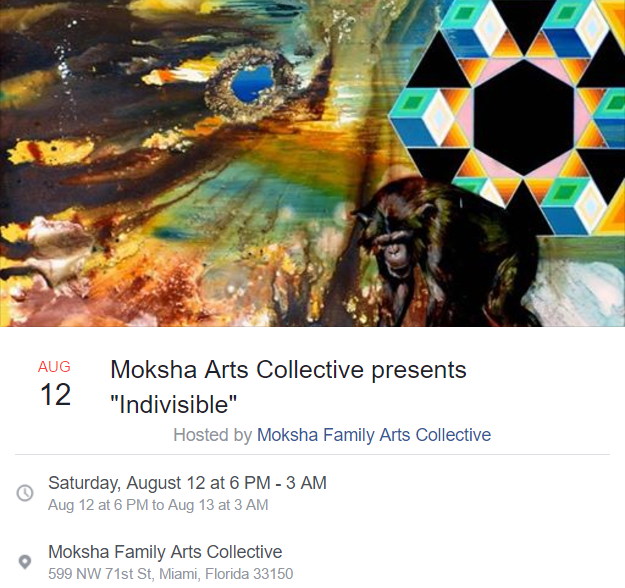 Moksha Gallery presents:
REINIER GAMBOA "INDIVISIBLE"
With Special Musical Guests & More
On Saturday, August 12, the Moksha Arts Collective will present a gallery showcase of original paintings and sculptures from emerging local artists along with the debut of the Moksha Virtual Gallery. The back studio will feature a dynamic multi-media showcase with special musical guests.
Now that Moksha Arts Collective is a federally recognized, 501(c)3 public charity, donations are tax-deductible. Your contributions and support for our events helps to continue our community efforts. We have a series of outreach projects designed to inspire artistic interaction and social engagement. This program is presented with the support of the Miami-Dade County Department of Cultural Affairs and the Cultural Affairs Council, the Miami-Dade County Mayor and Board of County Commissioners.
Our Featured Artist:
~REINIER GAMBOA~
"Indivisible"
Gallery Artists:
~JUAN MONTOYA~
~DARWIN LEON~
~MARY WILHELM~
~STELLA SG~
~NATE DEE~
~ABDEL MORCHED~
~STELLA STRZYZOWSKA GUILLEN~
Virtual gallery Art:
~CHRIS DYER~
~RANDAL ROBERTS~
~MORGAN MANDALA~
Live virtual art
~REINIER GAMBOA~
Live mural painting by:
~STELLA SG~
Moksha Symbols in Studio:
~REINIER GAMBOA~
~RANDAL ROBERTS~
Music By:
~D.J. KUMI~
~ROOSEVELT THE DR AND THE INDIVISIBLE FUNK~
~MOKSHA ROOTS ALLSTARS~
w/special guest: YOHAN MARLEY~
~GALACTIC EFFECT~
~ALAN EPPS~
~PUSHING LOTUSES~
Performance by:
~KASSI ABREU~
Vending
~LIONESS DREAMLAND~
Sponsored By:~MIAMI-DADE CULTURAL AFFAIRS DEPARTMENT~
~DAN PALIVODA & SONS ELECTRIC~
~JCFRACTAL LLC~
~PARADISE KEY~
~YUGEN 360~
~7TH CIRCUIT PRODUCTIONS~
~LAGUNITAS~
~THE AWA KAVA LOUNGE~
~SOBIE FABRICS~
~BRICKELL SMOKE SHOP~
LEO BIRTHDAY PARTY!!
We will celebrate our friends..
Pete Agudelo, Ed Cardona & others!
All LEOs get discount admission of $5 .
Drinks and light snacks will be available.
The Moksha Boutique will be open!
Gallery is free: 6 pm- 9 pm
Moksha Performance Showcase
(in the back studio)
9 pm -3 am $10 donation
The Moksha Gallery/Studio is located at
599 NW 71st Street, Miami FL. 33150
Between I-95 and 7th/441 and 71st st.
Please share and come back for updates, more TBA!!
For more information call 305-757-7277 or..
gallery@mokshafamily.org