Chris Dyer "Higher Reflections" A Solo Exhibition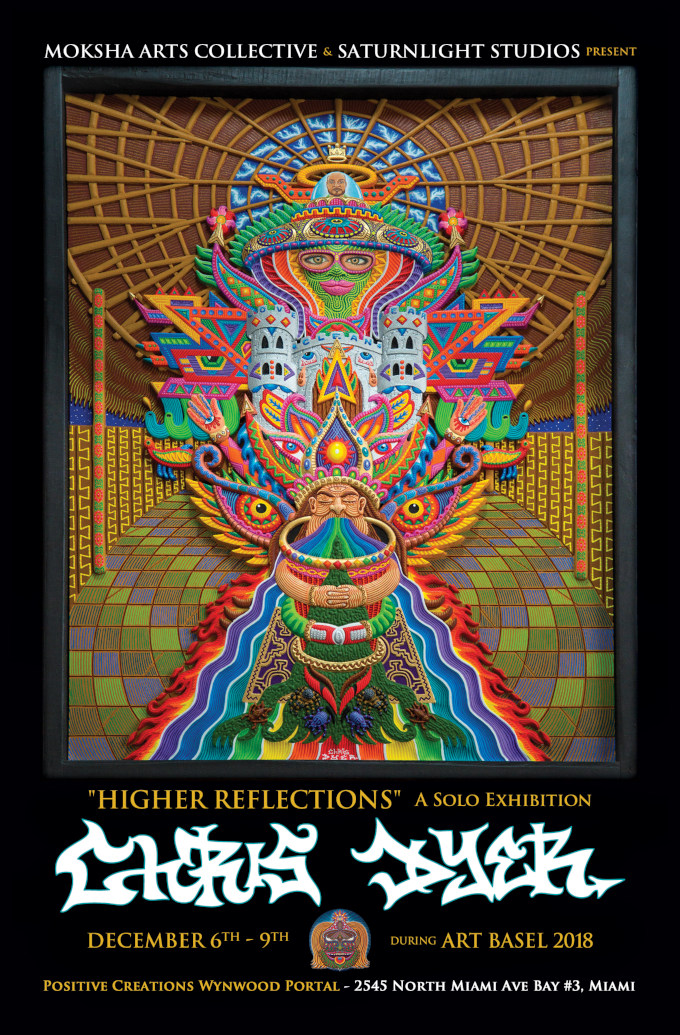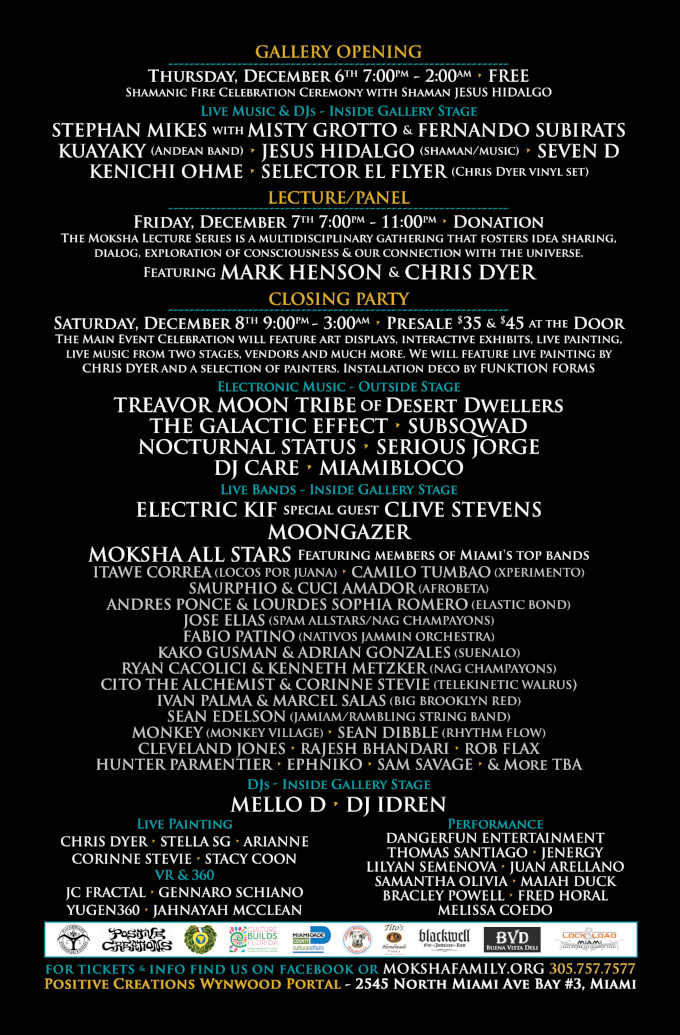 Moksha Arts Collective & Saturnlight Studios present:
Chris Dyer "Higher Reflections" A Solo Exhibition
Chris Dyer is a Peruvian-Canadian artist based in Montreal, who exhibits, performs and teaches his art worldwide. Though his styles, mediums and subject matter are in continuous flux, the main theme seen through his artwork is cultural and spiritual oneness of humanity and beyond. He serves as a conduit and builder of bridges between different art movements including visionary paintings, street art murals, skateboard graphics, and more. His subject matter is as varied as his styles, and the resulting art is a reflection of his personal spiritual journey. This is Chris' first US exhibition in 5 years and he will be showing most of his original art collection, not to be missed! www.positivecreations.ca
Moksha Arts Collective has produced world-class multimedia events for over 16 years. This organization has presented international art fairs, multi-disciplinary lecture series, and outreach in local communities. We have had the honor to host both locally and internationally renowned artists and scholars. As of 2016, Moksha Arts Collective has been federally recognized as a 501(c)3 public charity. Moksha engages the community with events that spread awareness on key social and environmental issues affecting our world. Proceeds from this event go to support the various community programs of the collective. www.mokshafamily.org
Saturnlight Studios is the brainchild of visionary Yuly Satori and music producer Kenichi Ohme. Specializing in music, video production, and artist management for any expression of art that contributes to the evolution of consciousness.
saturnlightstudios.com   facebook.com/saturnlightstudios
~Thursday, Dec. 6th 7:00 pm – 2:00 am~



Gallery Opening: Higher Reflections FREE!
Shamanic Fire Celebration Ceremony with
Shaman Jesus Hidalgo
*Music Lineup*
LECTURE/PANEL
Friday, December 7th 7:00pm-11:00pm DONATION
The Moksha Lecture Series is a multidisciplinary gathering that fosters idea sharing, dialog, exploration of consciousness & our connection with the universe.
~ CLOSING PARTY ~
Saturday, December 8th 9:00pm-3:00am
The Main Event Celebration will feature art displays, interactive exhibits, live painting, live music from two stages, vendors and much more. We will feature live painting by Chris Dyer and a selection of painters. Installation deco by Funktion Forms.
Outside Stage
Inside Gallery Stage
~MELLO D~
~MOONGAZER~
~ELECTRIC KIF with special guest CLIVE STEVENS~
~DJ IDREN~
~MOKSHA ROOTS ALL STAR~
FEATURING MEMBERS OF MIAMI'S TOP BANDS

~CAMILO TUMBAO (XPERIMENTO)~
~SMURPHIO  & ~CUCI AMADOR (AFROBETA)~
~ANDRES PONCE (ELASTIC BOND)~
~LOURDES SOPHIA ROMERO (ELASTIC BOND)~
~JOSE ELIAS (SPAM ALLSTARS/ NAG CHAMPAYONS)~
~FABIO PATINO (NATIVOS JAMMIN ORCHESTRA)~
~KAKO GUSMAN & ADRIAN GONZALES(SUENALO)~
~RYAN CACOLICI & KENNETH METZKER (NAG CHAMPAYONS)~
~IVAN PALMA & MARCEL SALAS (BIG BROOKLYN RED)~
~SEAN EDELSON (JAMIAM/ RAMBLING STRING BAND)~
~MONKEY (MONKEY VILLAGE)~
~SEAN DIBBLE (RHYTHM FLOW)~
~CLEVELANS JONES ~ RAJESH BHANDARI ~ ROB FLAX~
~ HUNTER PARMENTIER ~ EPHNIKO ~ SAM SAVAGE ~ & MORE
Tickets for closing event:

LIVE PAINTING
~ CHRIS DYER ~ STELLA SG ~ ARIANNE ~
~ CORINNE STEVIE ~ STACY COON ~
VR & 360
~ JC FRACTAL ~ GENNARO SCHIANO ~
~ YUGEN360 ~ JAHNAYAH MCCLEAN~
PERFORMANCE
~ DANGERFUN ENTERTAINMENT ~
~ THOMAS SANTIAGO ~ JENERGY ~
~ LILYAN SEMENOVA ~ JUAN ARELLANO ~
~ SAMANTHA OLIVIA ~ MAIAH DUCK ~
~ BRACLEY POWELL ~ FRED HORAL ~
~ MELISSA COEDO ~
Volunteer positions, Sponsorship and vending opportunities are available. Please contact 305.757.7277 or gallery@mokshafamily.org
Positive Creations Wynwood Portal
2545 North Miami Ave Bay #3
Miami, FL 33127
305.757.7577