Moksha Arts Collective Presents:
Doors of Perception 2
Friday – September 20, 2019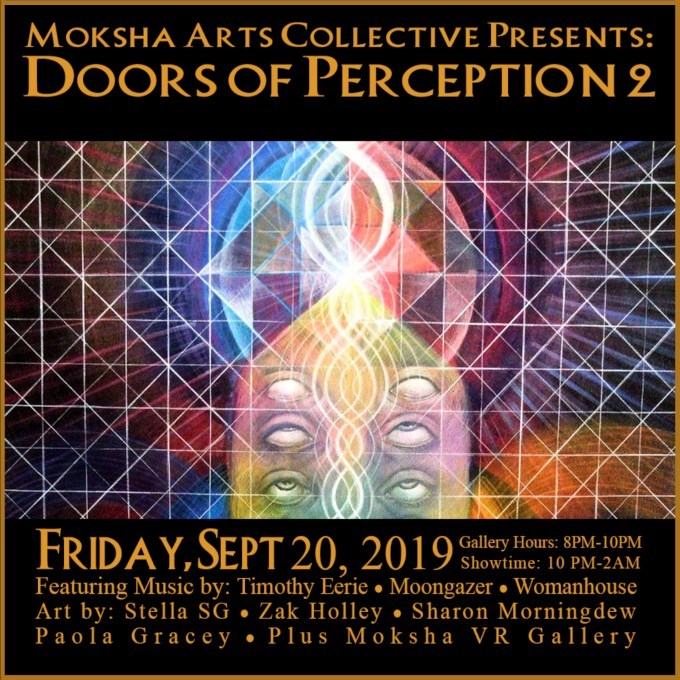 Moksha Arts Collective Presents:
"Doors Of Perception 2"
Building from the success of Doors of Perception, the Moksha Arts Collective presents Doors of Perception 2 to ascend further into creative realms. Exploring sights and sounds, artists and musicians open portals to other dimensions.
Timothy Eerie, based in Austin, TX will penetrate into their brand of psych pop with deep grooves and endless ego deaths! The night features some of Miami's premier psychedelic rock bands, live visual artists, performance art, and more. Located at the Moksha Arts Collective studio, which showcases paintings from world-renowned visionary artists. Our goal includes reconnecting human culture to its roots by supporting and empowering artists.
Bands:
~TIMOTHY EERIE~
~WOMANHOUSE~
Gallery Art:
~STELLA SG~
MOKSHA SYMBOLS DISPLAY:
~ADAM SCOTT MILLER~
~AMANDA SAGE~
~BHAKTI BAXTER~
~CHRIS DYER~
~LEBO~
~OLIVIA CURRY~
~RANDALL ROBERTS~
~REINIER GAMBOA~
Virtual Gallery is available by sign up during gallery hours only! Walk through will be limited to 20 min max per person
VIRTUAL GALLERY:
~MARK HENSON~
~CHRIS DYER~
~MORGAN MANDALA~
~RANDALL ROBERTS~
Gallery hours are FREE and open to the public. Please note that the multimedia event starts at 10 PM and is ticketed. All guests of the gallery are welcome to purchase a ticket to stay for the multimedia showcase.
Admission:
8 PM – 10 PM: FREE
After 10 PM: $10 presale / $15 at the door.
The Moksha Gallery/Studio is located at
599 NW 71st Street, Miami FL. 33150
Between I-95 and 7th Ave/441 on 71st St.
For more information call 305-757-7277
or gallery@mokshafamily.org
As a federally recognized, 501(c)3 public charity, donations to. Moksha Arts Collective are tax-deductible. Your contributions and support for our events helps to continue our community efforts. We need volunteers, donations and sponsors, if you want to get involved contact us! info@mokshafamily.org
305-757-7277
*PLEASE SHARE and come back for updates*
September 20, 2019 8:00 PM – 10:00 PM
Gallery Hours (Free )9:00 PM
Doors for event ($10 presale / $15 door)
10:00 PM – 10:30 PM
Womanhouse
11:00 PM – 11:45 PM
Moongazer
Saturday, September 21, 2019 12:00 AM
Timothy Eerie