Moksha Family hosting
Ableton Live Miami Users Group-WMC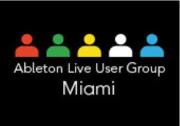 Wednesday, March 21, 2012
7:00pm until 9:00pm
This is the first official Ableton Live User Group meeting in Miami FL.
It will be held at 7th Circuit Studios (aka Moksha).
We will be having informative live demonstrations given by well known
local performing artists who use Ableton as their core instrument.
Demonstrations will include detailed explanations followed by a short performance. Any level of Ableton user or anyone with interest in digital production is welcome to attend.
All ages are welcome this is a free Event.
There will be a raffle.
Be there at 7:00 pm user group only lasts up to two hours.
Demonstrating and Performing
Will Mills ( Sounduo – Producer Performer)
Andrew Bird ( Sounduo – VJ)
Y Diz ( Head of User Group, Telekinetic Walrus- Producer/Performer)
For More Info Call 305-878-0707
Wyatt Y Diz Meagher
ydizmusic@gmail.com
or
Nicole Martinez
dvtrainer@gmail.com