Moksha Roots*Live*
FRIDAY – OCTOBER 17, 2014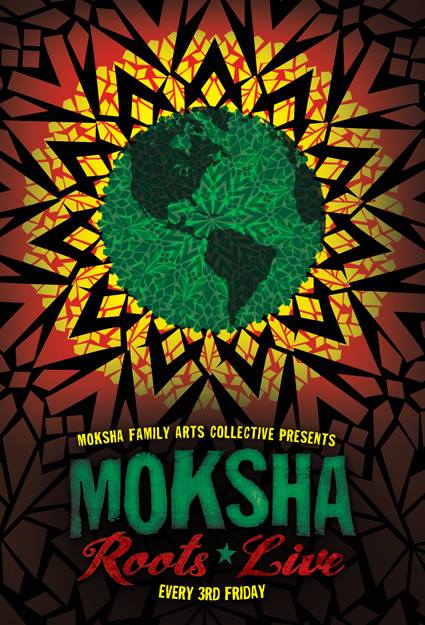 *Moksha Roots Live*
7th Circuit Productions and Moksha Family Arts Collective present Moksha Roots Live, also the official after party for The Rhythm Foundation's Big Nights in Little Haiti. Come out and vibe with us, support this ongoing monthly gallery opening, live music and drum jam bringing together all the diverse cultural roots of Miami.
Always featuring new special guests each month:
.
* Inside Bands *
~ DEMOCRACY ~ 10:00pm-
(Hatian Band)
~ DR. DJO BI, ERIC BLI BLI GORE & ATITO GOHI ~
(West African Drum and Dance Group)
~MOKSHA ROOTS ALL-STARS~
The Moksha Roots Collective Band is a constant rotation of Miami's finest roots and world music musicians with international guests. Our special guest musicians all unite to deliver an eclectic Jam. You never know who may join the jam.
This All Star Group includes:
BAGGA TRAK – HARRY LACOUNTE –
RENE BAILEY – RYAN B. & many special guests!
* SPECIAL GUEST *
~ DON SHA ~
(Miami's Reggae Don and one of South Florida's rising talents.)
* DJ *
~MELLO-D~(resident)
* HOST *
~TBA~
.
*MOKSHA ART GALLERY*
We feature our gallery filled with world renown visionary artists as well as our local Miami Artists.
Art Exhibition with:
~ JAKE CORDERO ~
~ DON PARCHMENT (photo presentation) ~
LIVE PAINTING:
~

TBA

~
.
*MOKSHA BOUTIQUE*
Filled with exquisite visionary art posters, cards, stickers, books, cds, jewelry, clothing, hand made crafts & much more!
OUTSIDE:
*TRIBAL DRUM JAM WITH SPECIAL GUESTS & DJs*
Percussionist, Fire dancers, Hula Hoopers, Musicians, Performers…
Are Welcome with FREE Admission until 11:00pm!
* SPECIAL GUEST DJ *
(Their musical fusion is a journey into an audible realm of explosive soulful vocals and punchy reggae/rock guitar riffs. The Miami duo's sound is a mix of various genres and reflects the unique blend of cultural influences that is the proverbial melting pot. Their sultry, psychedelic vibe is a unique addition to the emerging Miami roots/rock music scene.)
(A global funk selector Ephniko approaches crowds as a rhythm shaman looking to heal their stress and sadness by taking them on a journey. He does so by combining tribal-like acoustic sounds from folklore all over the world with the electromechanical vibrations of the first world inner cities where he found his musical voice. The journey is nothing less than orgasmic. He describes this style as "African Roots music from outer space.")
(As an orchestra of one mouth, one microphone and one breath Komakozie brings a timeless style and sound through every beat. Having long practiced his arts alongside his exceptional singing, rapping and dancing skills, Komakozie has risen through the stages of musicals, local talent shows, local hip-hop groups and has even performed alongside the likes of Matisyahu, KRS-One, Afrobeta, Talib Kweli and Wyclef Jean. Seeing now bounds to his vocal percussion expertise, he has gained notice beatboxing to the sounds of jazz, R&B, electronica, rock and reggae as a human instrument.)
* DRUM CIRCLE *
~Lead by DANNY HEARN~
* Performance Art *
~ DANGERFUN ENTERTAINMENT ~
(Circus Acts, Fire Shows, Clowning)
~ UNITY IS CHANGE ~
.
*PLEIADEAN LOUNGE*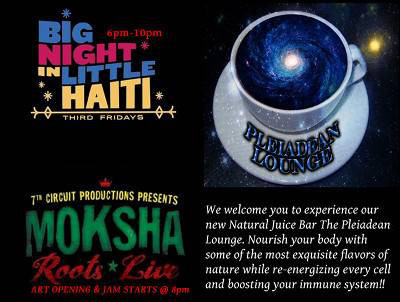 Check out our new juice and snack bar with all Organic Kava, Kambucha, Roots Drinks. There will also be a full alcohol bar..
*FULL BAR*
THIS MONTH COME AND
CELEBRATE YOUR BIRTHDAY WITH US!
$5 Discount for Libras & Scorpios!
*EVENT DETAILS*
FRIDAY 10-17-2014
ART OPENING & JAM STARTS @ 8pm
FREE ADMISSION BEFORE 10:00pm
10PM – 3AM 18+Over /$10 (with valid id)
7th Circuit Productions / Moksha Gallery
228 N.E. 59th. ST.
MIAMI, FL 33137
WATCH THE LIVE STREAM HERE
Other Sponsors include:
Tito's Handmade Vodka, Kind Bars, 7th Circuit Productions,
Metro 1 Properties, SRX, Lumamerica & Ploppy Palace Productions.
and don't miss next Months –
Moksha Roots Live – 11/21/14!!